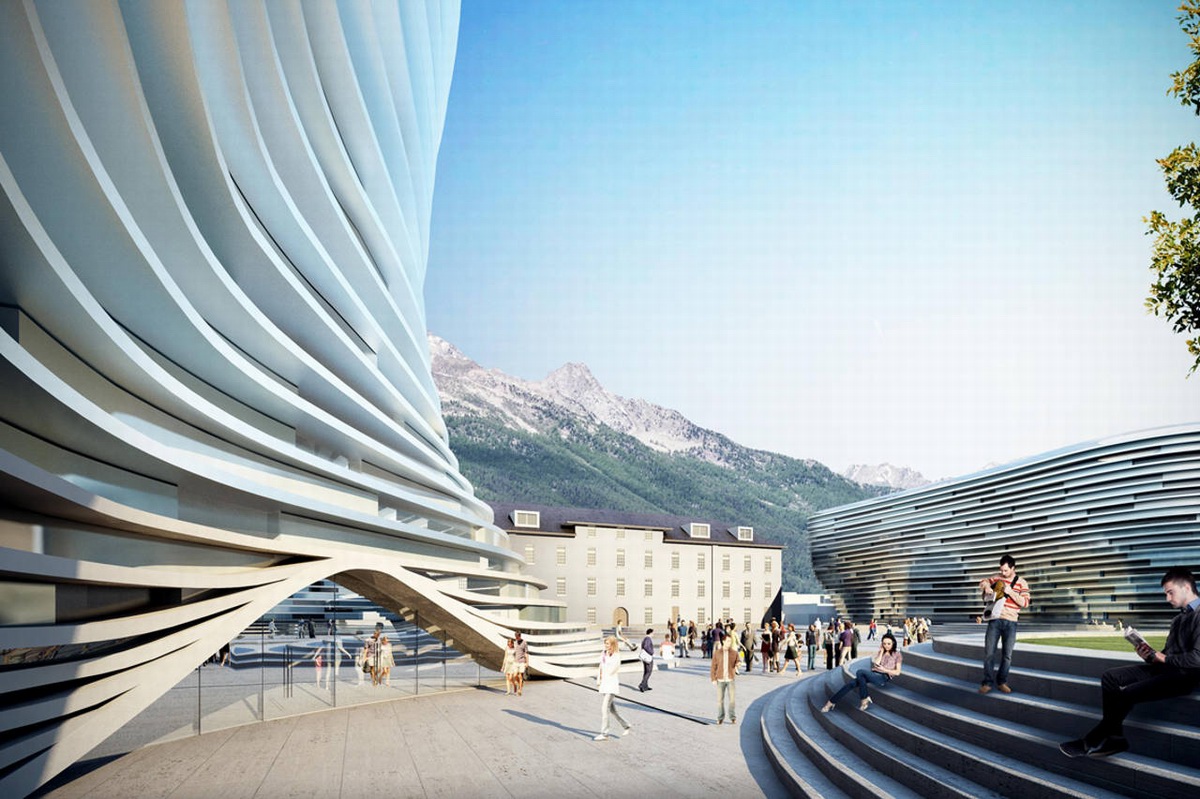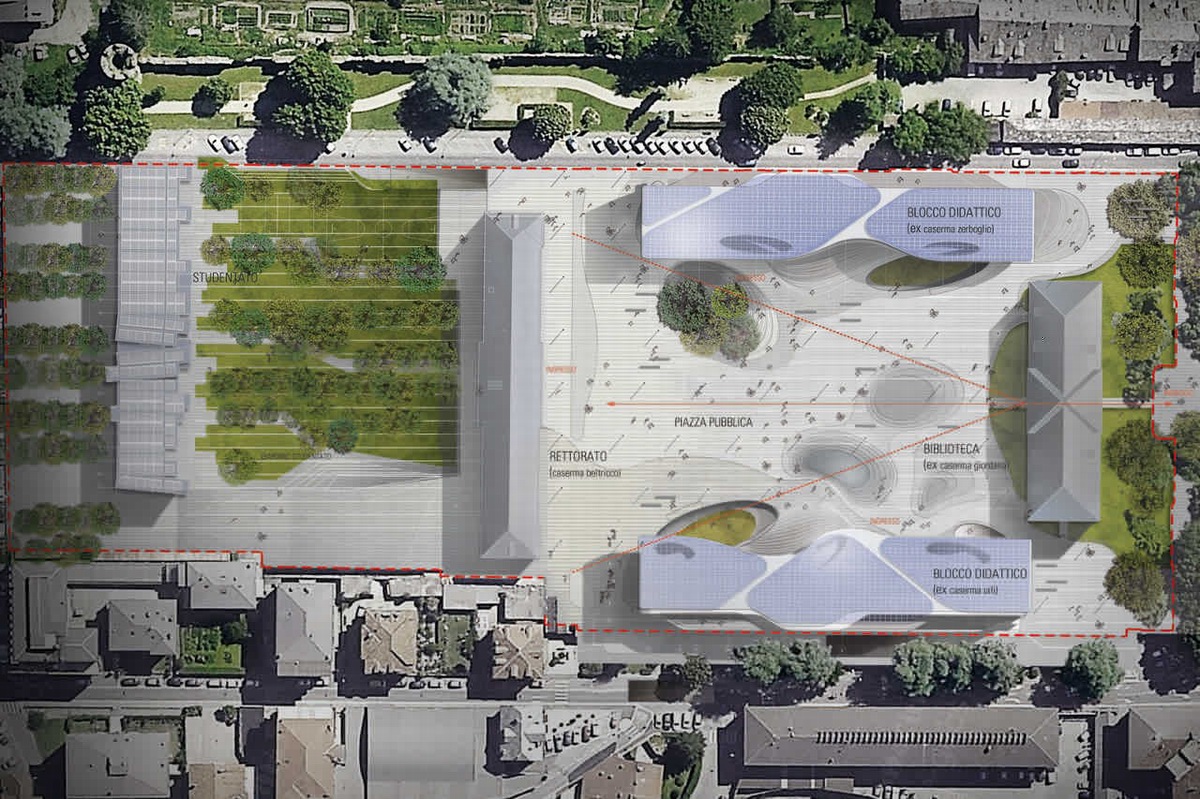 Restoration and transformation of the former Testafochi Barracks
MC A won a public competition for the construction of the New Valdostana University. The project provided for the recovery and transformation of a total area of 56,302 sqm of the Ex Barracks Testafochi Barracks. The area is included in an important and strategic strip of land close to the urban center.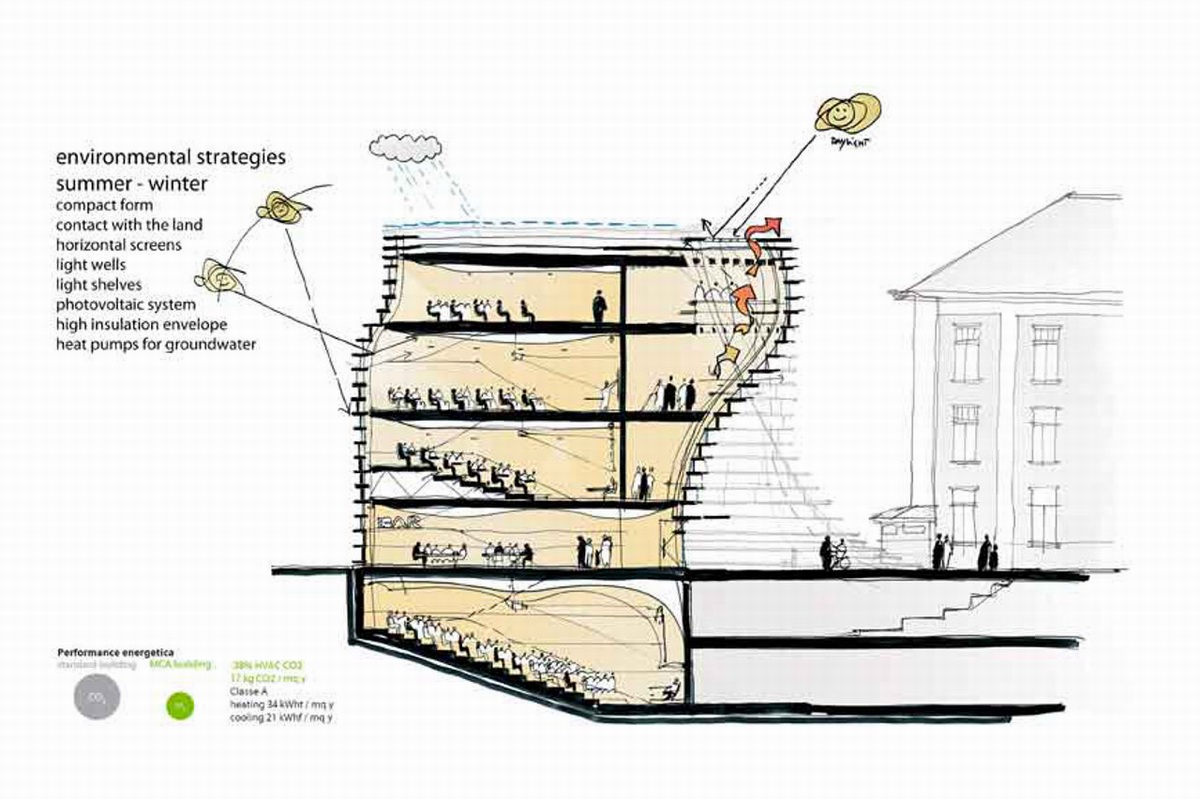 The project involves the conservation and recovery of the main existing buildings and the construction of two new buildings that, while respecting the setting of the original floor plan, rebuild the whole area, opening it to the city and hosting in the most efficient way the spaces dedicated to education and to the common activities of the various faculties, in order to meet all the functional requirements (the university will accommodate 2,000 students) as well as to make it immediately recognizable as a Landmark of the contemporary city of Aosta. The new project strengthens the cultural activities, extends the heritage of green areas and integrates it up to be a system that runs through the city. Organization functions are favored in the university and each building has therefore set its functional autonomy.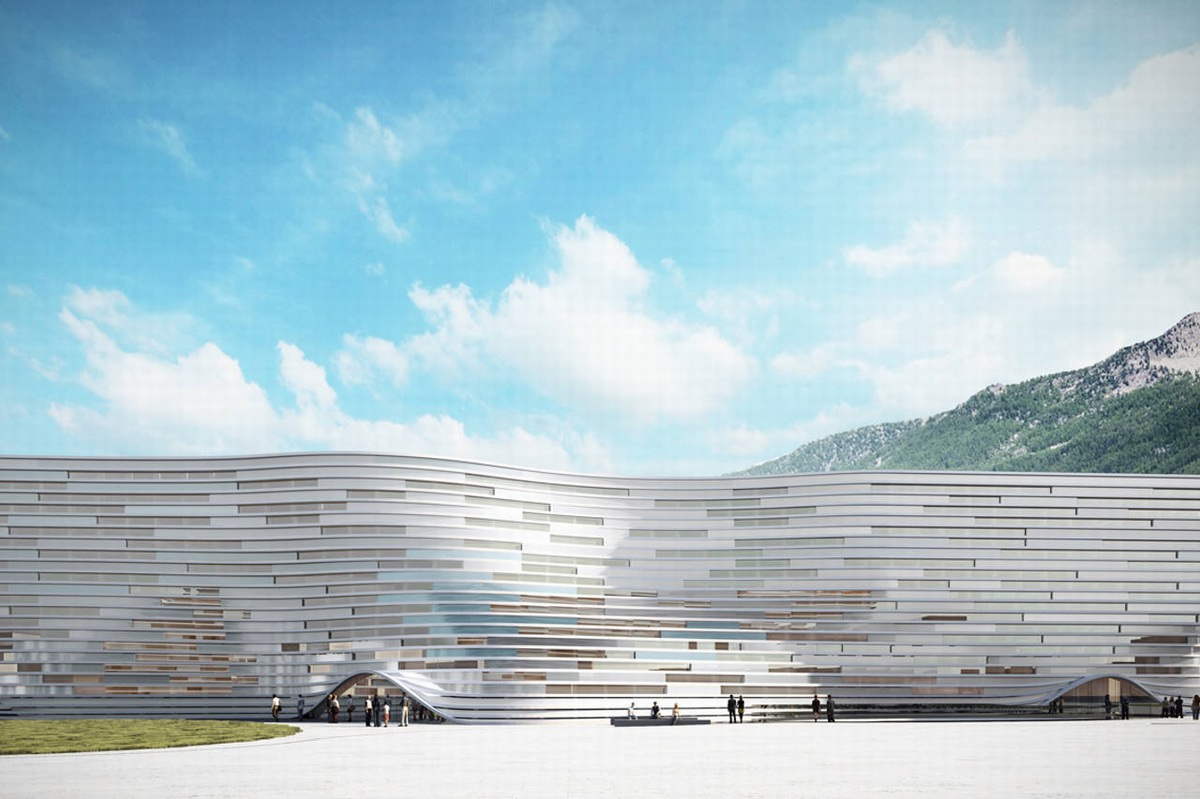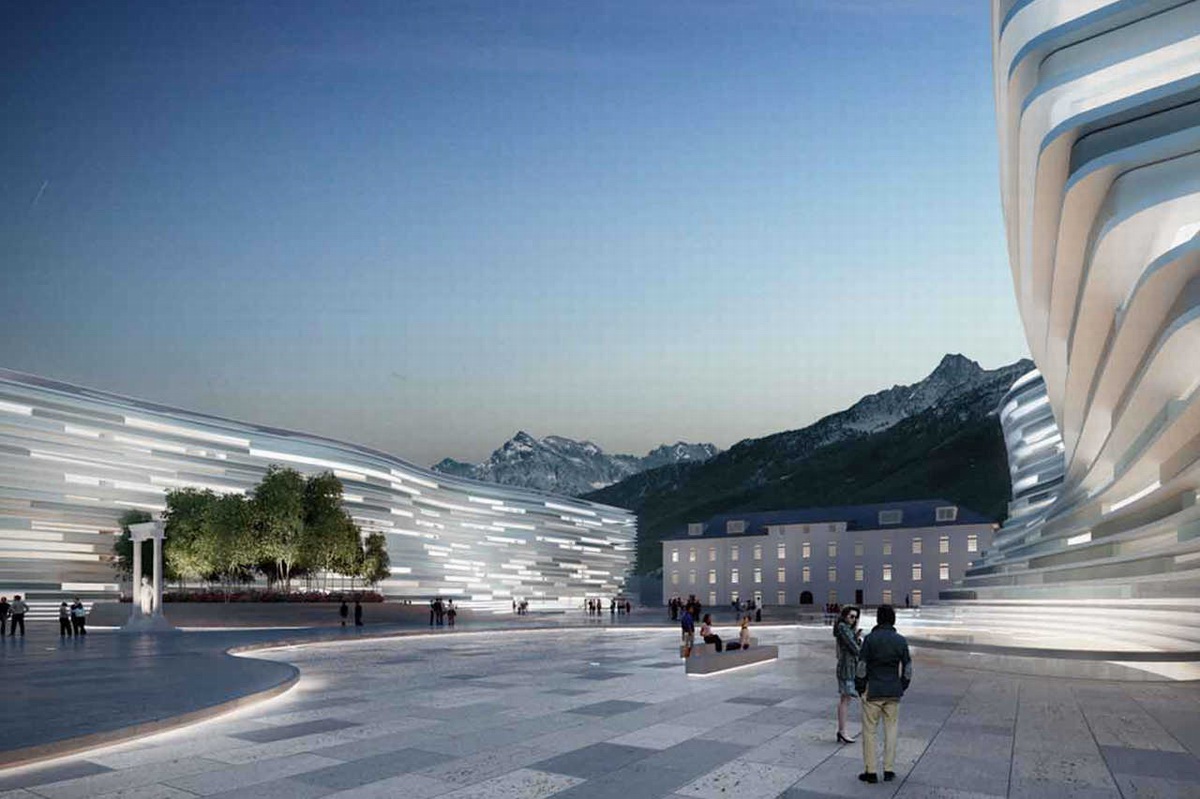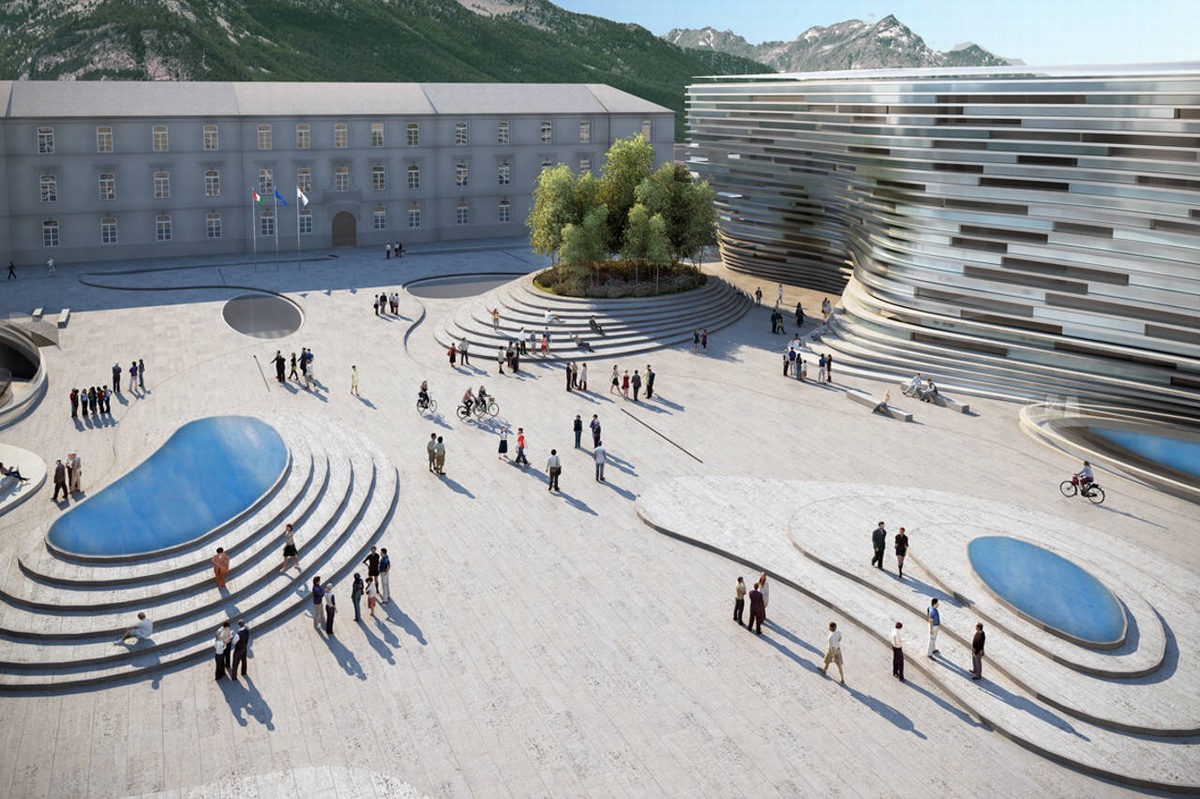 Location: Aosta, Italy
Year: 2011 – under construction project
Client: NUV – Nuova Università Valdostana
Type: Winner competition
Surface area: 30,320 mq
Project: Mario Cucinella Architects, Pession Studio Associato, Tetrastudio, rA – Studio Rosset e Associati, Sintecna (structures), Golder (mechanical and electrical engineering), Ing. Giuseppe Amaro (Fire security)
Coordination: Mario Cucinella Architects
MC A Team: Mario Cucinella, Julissa Gutarra, Riccardo Minghini, Michele Olivieri with Nada Balestri, Rigoberto Arambula, Fabrizio Bonatti, Alberto Bruno, Alberto Casarotto, Giulia Pentella, Agnese Pirani, Caterina Pirani, Luca Sandri, Luca Stramigioli, Lucrezia Rendace. Artistic direction: Giulio Desiderio, Davide Stolfi. Models: Yuri Costantini
Visual: Engram Studio
Photo credit: MCArchive
Structural engineering: Sintecna srl
Mechanical and Electrical engineering:Golder Associates srl – Metec & Saggese – Energy Services
Acoustic: Onleco srl
Security and fire:Ing. Giuseppe G. Amaro
SEE MORE MC A