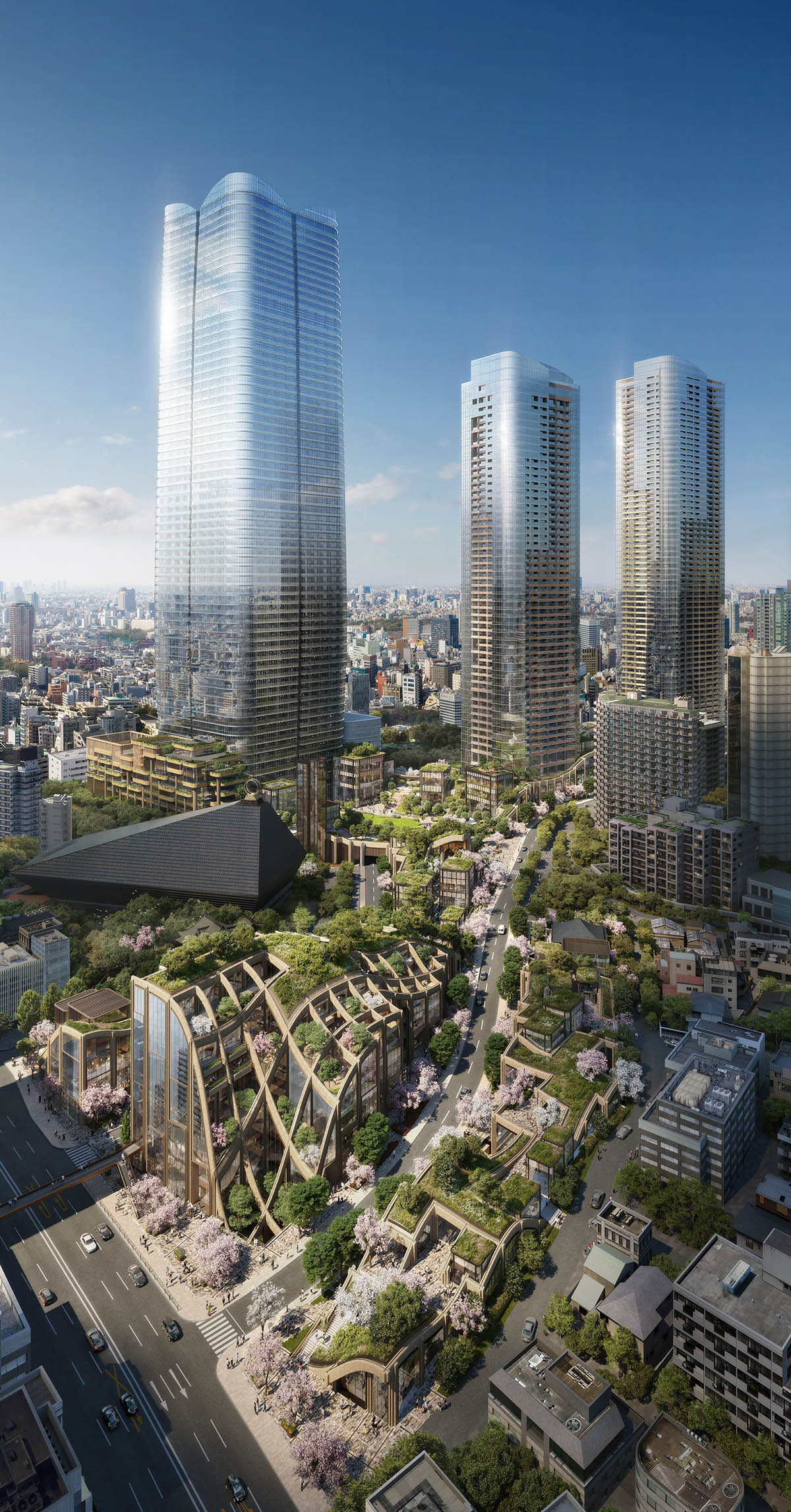 Heatherwick Studio has unveiled plans for anew mixed-use development in Tokyo, Japan, whichaims to create "a city-within-a-city full of greenery" in theToranomon-Azabudai district. The project will Heatherwick Studio's firstproject to be built in Japan.
Heatherwick 工作室公布东京的一个新的综合开发项目计划,该计划旨在Toranomon-Azabudai地区创造一个"充满绿色的城市"。这个项目将是Heatherwick工作室在日本的第一个建设项目。
Commissioned by Mori Building Company,Heatherwick Studio will create a new public realm and many low-rise structures,landscaping and retail within the Minato ward of Tokyo - which will encompass a total of6,000-square-metre area. Construction has already begun on site and is expectedto complete in March 2023.
由Mori建筑公司委托,Heatherwick工作室将在东京港区创造一个新的公共区域和许多低层建筑、景观以及零售商业围绕在一个总共6000㎡的区域内。基地已经启动施工,预计将在2023年3月完成。
The overall design program will includeoffices, residences, a hotel, an international school, retail shops,restaurants and cultural facilities which will be weaved into the fabric ofeveryday life, encompassing work, learning, recreation, interaction andrelaxation.
总体设计将包括办公、住宅、酒店、国际学校、零售商店、餐厅和文化设施,这些都将融入日常生活节奏,包括日常的工作、学习、娱乐、互动和放松。
Conceived as the core development ofToranomon-Azabudai district, Heatherwick designed low-rise and wavy structuresthat take into consideration a human-centric approach. By using "a plantedpergola-like system", the designer wanted to create a "uniquepeople-centered space" by blending diverse elements and creating a worldof its own.
对于Toranomon-Azabudai区域核心区的构想,Heatherwick设计低层和波浪形的结构,考虑以人为本。采用"一种种植凉棚系统"设计师想融合多种元素和创造属于自己的世界来创造一个"独特以人为本的空间"。
The plans will cover an area ofapproximately 8.1 hectares, similar to that of New York's Rockefeller Center,and will feature extensive greenery totaling 24,000 square meters including a6,000 square meters central square.
这个计划将占地大约8.1公顷,类似于纽约洛克菲勒中心,未来大量的绿植将达到24000㎡,包括6000㎡中心区域。
The project's physical structures willincorporate cutting-edge seismic designs and technologies, with dedicated powerstations supplying electricity to the whole neighborhood. The project isdesigned to provide a safe city that will allow people to carry on living andworking even in the event of a major disaster on the scale of the Great EastJapan Earthquake.
这个项目的结构物理性将融入前沿的抗震设计和技术,以及专有的电力站为整个项目提供电量。这个项目旨在提供一个安全的城市,可以让人们持续生活和工作甚至在东日本发生大地震的大灾难的情况下。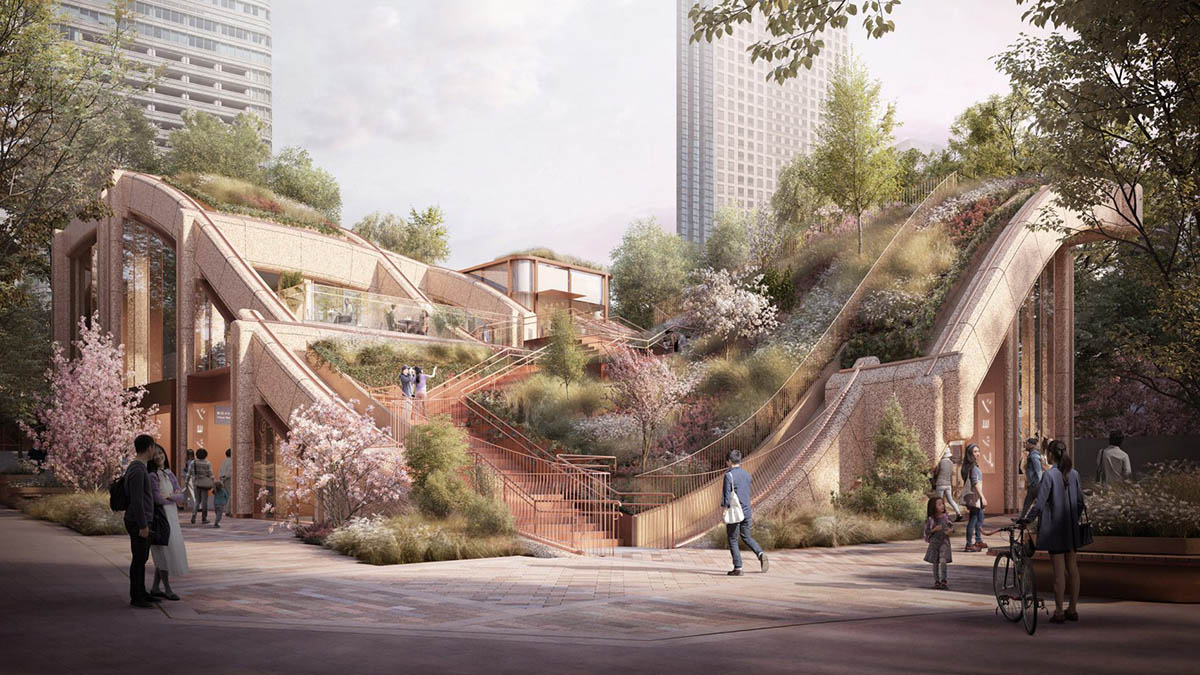 "It's been very exciting working onthe Toranomon-Azabudai project and much of our effort has been focused ondesigning the public spaces that everyone will experience when they spend timein this new area," said Thomas Heatherwick, founder of Heatherwick Studio.
"着手Toranomon-Azabudai项目,将是一个令人兴奋的工作,我们大量的努力专注在公共空间的设计,这将使每个人都能够体验到,当他们花时间在这个新土地上," Heatherwick工作室的创始人Thomas Heatherwick说
"As many new developments around theworld can be harsh and sterile we wondered if we could provide a morehuman-centered alternative by integrating surprisingly intense quantities ofplanting and greenery. […] As a way of combining an architectural constructionsystem with significant amounts of nature we developed the idea of a gardenpergola scaled up to district size."
"世界上很多新开发项目可能是非常苛刻和不育的,我们就想如果我们通过整合惊人数量的种植和绿化来提供一个更加以人为本的替代方案。[…]作为一种建筑施工系统结合大量自然资源的方式,我们开发了这个花园凉棚的概念按比例放大到区域大小。
"This concept has allowed us to bringan overarching logic to an eight-hectare piece of Tokyo whilst also makingspace for facilities such as housing, shops, hotels, spas, a school and atemple within the sections framed by the grid," added Thomas Heatherwick.
"这个理念允许我们为这片8公顷的东京土地带来一个总体逻辑,同时也创造设施空间,例如商店、酒店、水疗中心、学校和一个由网络框架构成的寺庙,"Thomas Heatherwick.补充说。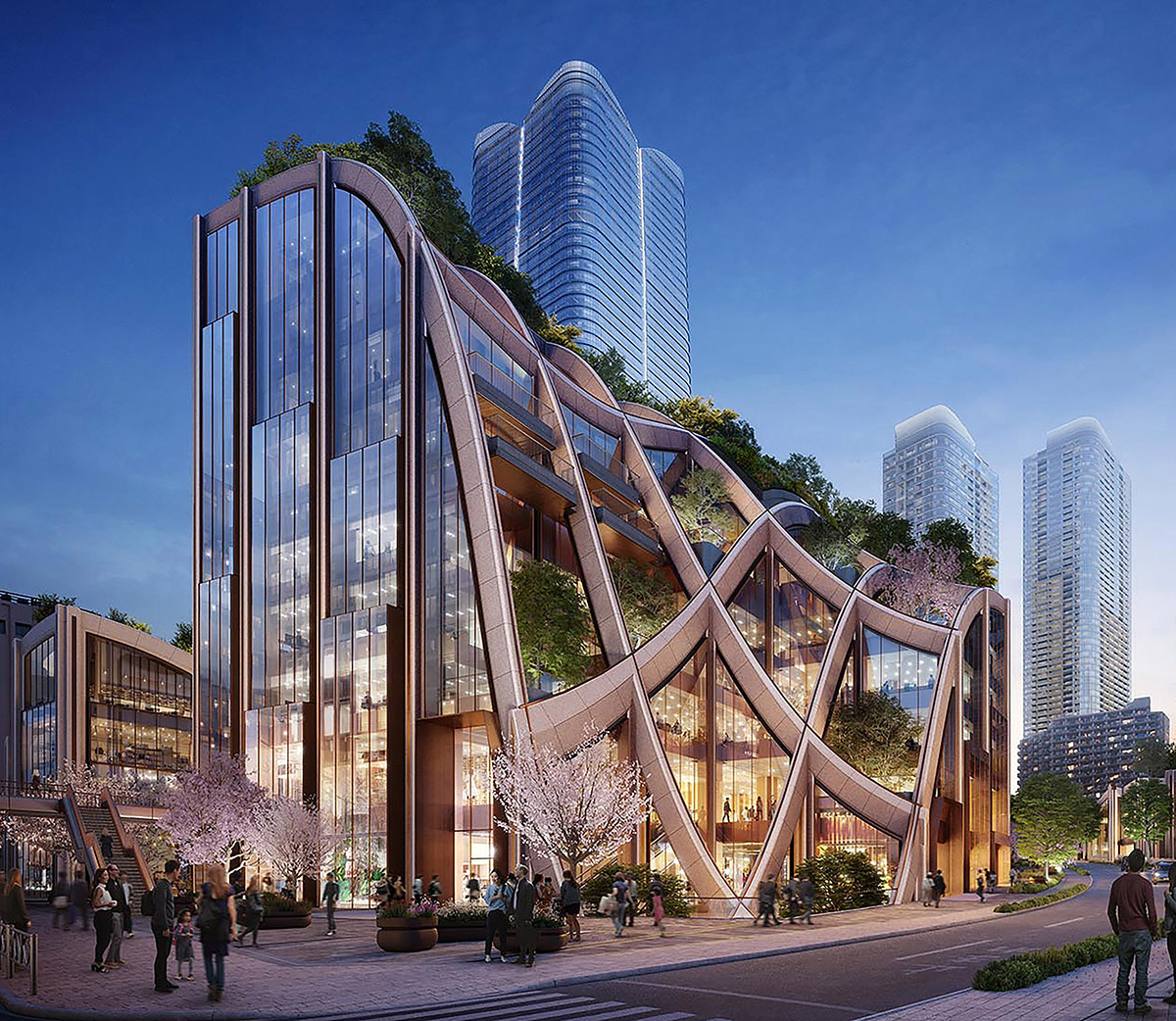 The central space will offer "Green& Wellness" that will allow people from its diverse communities togather and meet. A significant proportion of the site, including spaces on topof podium buildings, will be covered with greenery to take advantage of thestepped architecture. There will be more than two hectares of green space,including the central square, creating a seamless urban oasis filled withtrees, flowers and waterscapes.
这个中心空间将是"绿色和健康"的,将让来自各个社区的人们在这里聚会和见面。基地大部分地方包括裙房屋顶空间,都被绿植覆盖,通过利用台阶式建筑。将有超过2公顷的绿色空间,包括用树、花和水景创造一个无缝的中心广场。
"100% of the electricity supplied tothe entire neighborhood will be from renewable sources, which will meet thetargets stipulated in the RE100 international environmental initiative led bythe UK's Climate Group," stated in press release by Mori Building Company.
"供应整个片100%的电量将来自可再生资源,这将实现由英国气候组织领导的RE100国际环境倡议中规定的目标,"在Mori 建筑公司的新闻稿中表示。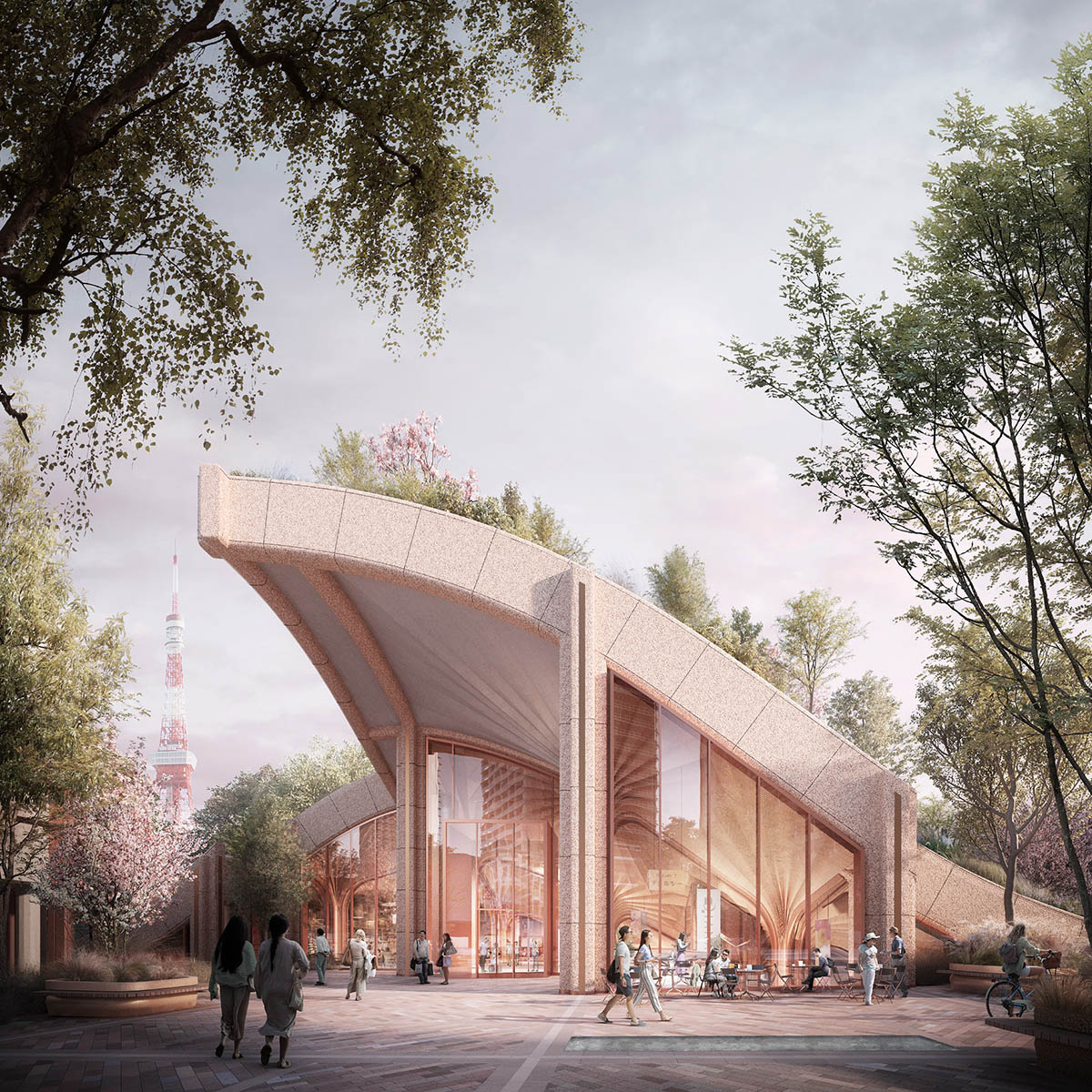 "The mental and physical wellbeing ofpeople living and working in the area will be supported with wellness programsinvolving medical facilities, sports facilities, a food market, restaurants andthe environment of the central square. MoriBuilding will apply for projectcertification under the WELL Building Standard™ of theInternational WELL Building Institute™."
"人们在这个区域居住和工作的身心健康将得到健康计划的支持,包括医疗设施、运动设施、食物超市、餐厅和中心广场的环境。Mori 建筑将申请国际WELL建筑协会的WELL建筑标准的认证。
The development also includes threeskyscrapers were designed by US-based architecture practice Pelli Clarke PelliArchitects under the direction of the late César Pelli and Fred Clarke. Theretail spaces will be designed by Sou Fujimoto Architects led by Sou Fujimoto.
这个开发同样包括三栋摩天大楼,由美国建筑实践公司佩里克拉克佩里建筑师事务所在已故的西萨·佩里和弗瑞德·克拉克的指导下设计的。零售商业空间将由藤本壮介领导的藤本壮介建筑师事务所设计。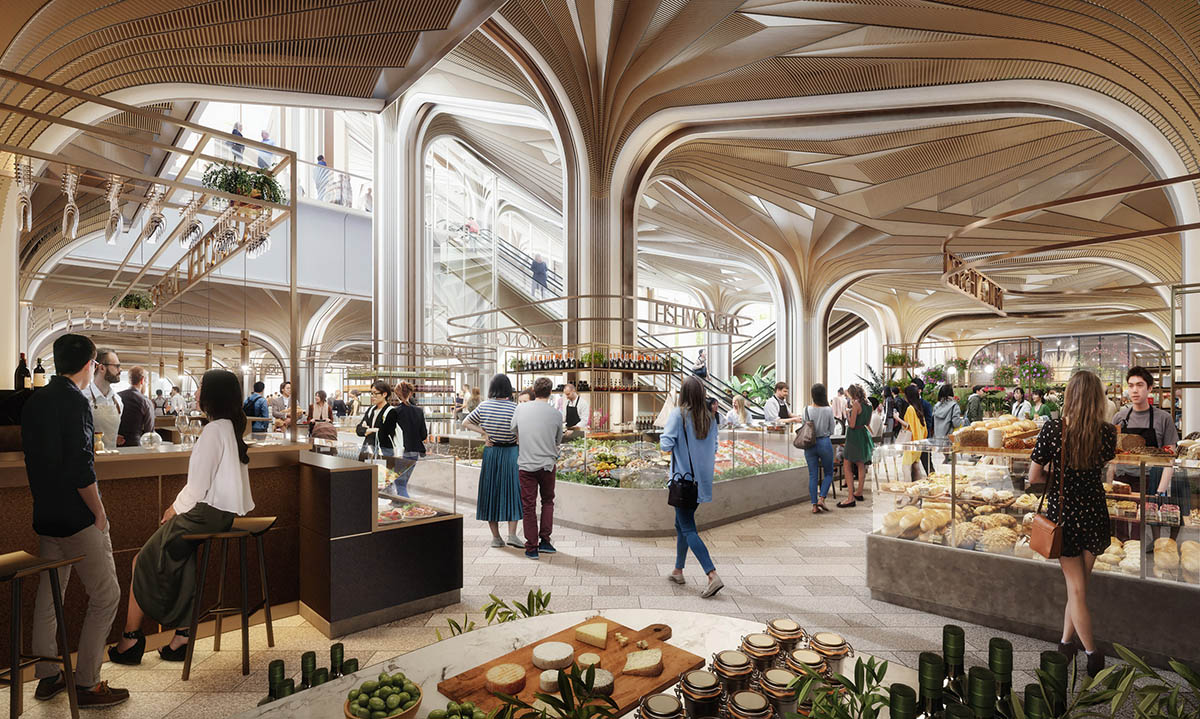 Project facts
项目情况
Project name: Toranomon-Azabudai DistrictCategory 1 Urban Redevelopment Project
项目名称:Toranomon-Azabudai区1类城市更新项目
Project executor: Toranomon-AzabudaiDistrict Urban Redevelopment Association
项目执行:Toranomon-Azabudai区城市更新协会
Site area: Approx. 8.1 hectares
用地面积:约8.1公顷
Ground area: Approx. 63,900 square meters
占地面积:约63900㎡
Total floor area: Approx. 860,400 squaremeters
总建筑面积:约860400㎡
Buildings: Residences (1,400 units),offices (approx. 213,900 ㎡), retail facilities (approx. 150 shops), hotel (approx. 120 rooms),international school (approx. 14,000 ㎡), central square (approx. 6,000 ㎡), cultural facilities (approximately 9,000 ㎡)
建筑:住宅(1400单元)、办公(约213900 ㎡)、商业设施(约150家商店)、酒店(约120间客房)、国际学校(约14000㎡)、中心广场(约6000㎡)、文化设施(约9000㎡)
Greenery: Approx. 2.4 hectares
绿地:约2.4公顷
Parking: Approx. 1,880 spaces
停车:约1880个
Project cost: Approx. JPY 580 billion
项目费用:约580亿日元
Members: 285 rights holders (as of March,2019)
成员:285名权利人(截至2019年3月)
Construction start: August 5, 2019
施工启动:2019年8月5日
Planned completion: March 31, 2023
计划完成:2023年3月31日
SEE MORE Heatherwick Studio