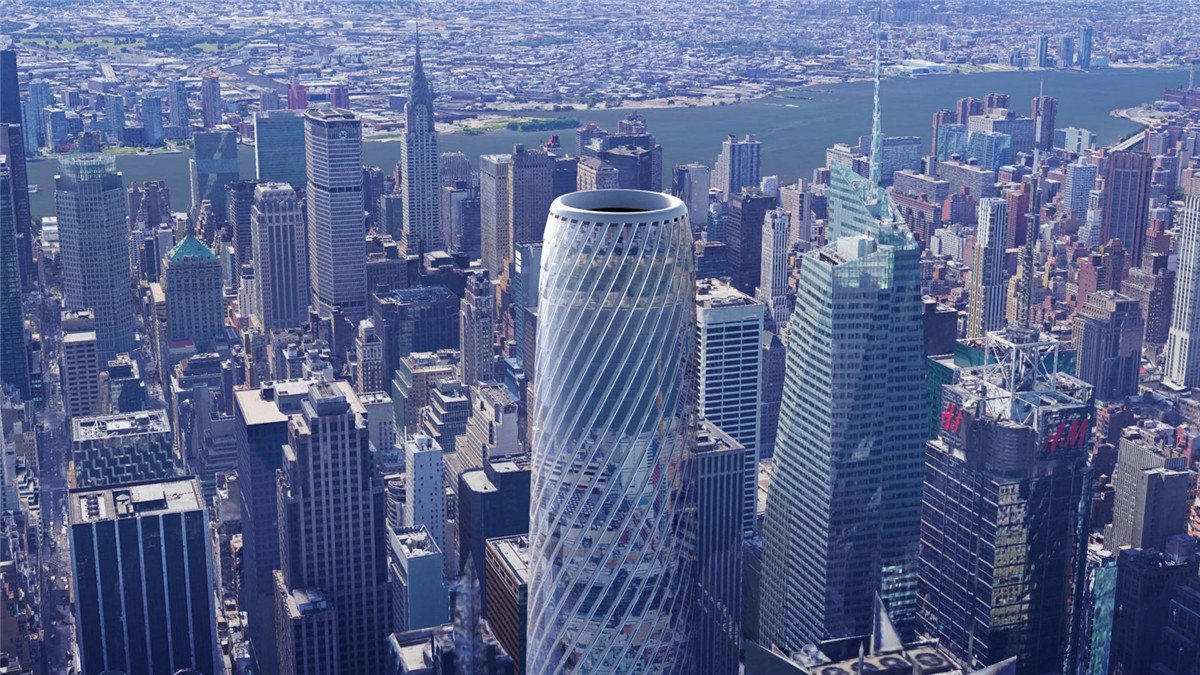 NEW TYPOLOGY FOR MULTI-FLOOR TENANTS
多层租户的新类型
The project explores a novel andcaptivating tower typology which emerged in New York in the last years – "TheNew York's Super Slender". Located on a small, still vacant site on West 45thSt which footprint measures at approx. 30x30m only, the tower rises to 400m inheight, and provides modern, ergonomic, sustainable office spaces. The projectis another take on a path which skyscraper design will likely be following inthe coming years, to meet extreme challenges of constrained and dense citycenters, with their shortage of big vacant lots, yet ever growing demand fornew properties.
该项目探索了过去几年在纽约出现新颖而又迷人的塔楼形式—"纽约超纤细"。位于一个很小但是仍然一块空地的西45街地块,其用地尺寸大约只有30*30m,塔楼上升到400m的高度,并且提供现代,符合人体工程学的,可持续发展的办公空间。这个项目将是未来几年摩天大楼设计很可能遵循的另一条道路,以应对受限和高密度城市中心的极限挑战,由于缺乏大量空地,但又对新房产的需求增加。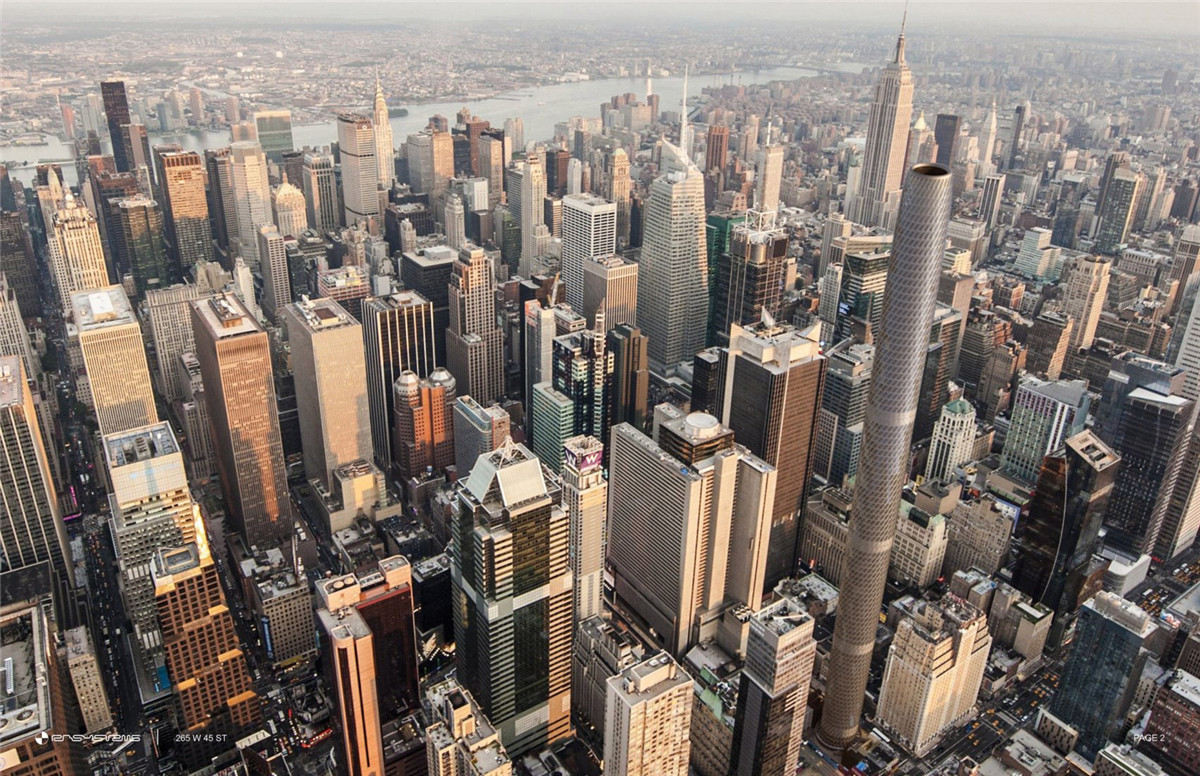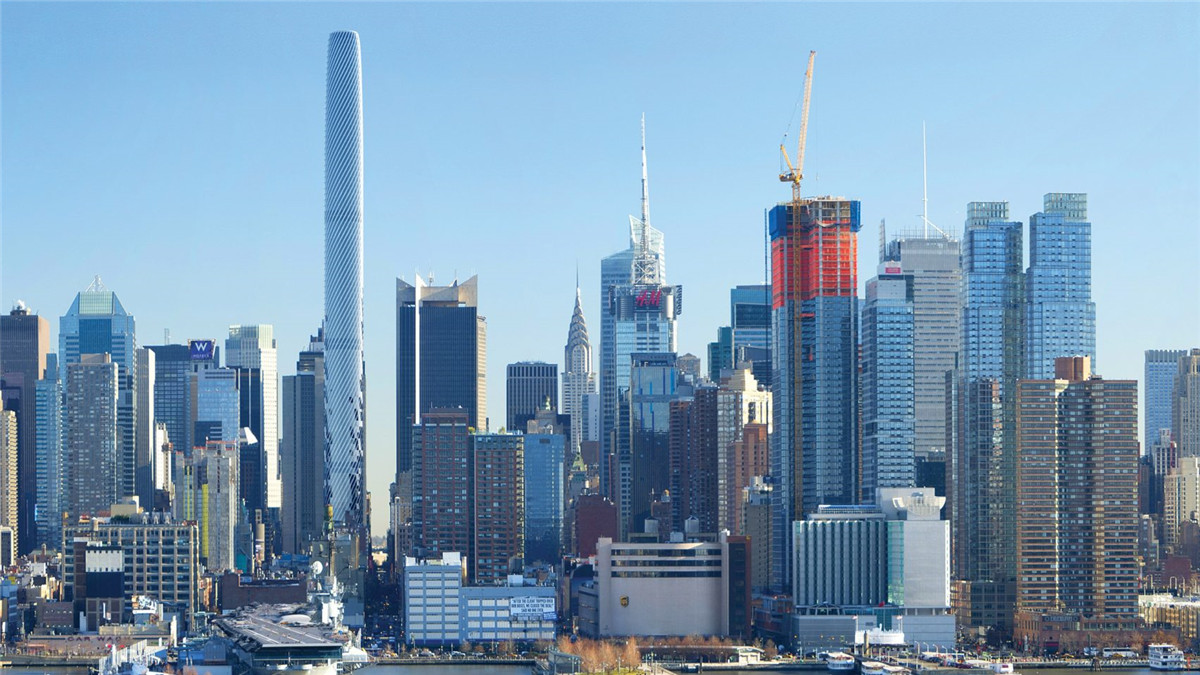 FORM AS AN OUTCOME OF STRUCTURAL CONCEPT
形式作为结构概念的结果
The tower utilizes an innovative structuralsystem, which solely determines its appearance. Due to extremely constrainedsite, the choice was to eliminate perimeter columns and substitute them by aset of steel cables, which run and twist along the height of the tower,allowing for an ultralight, yet sturdy structural assembly. The cables areanchored in a deep foundation, MEP zones and tied back to the core at the upperstructural ring. The spiral arrangement of the cables – the "twist" – creates aforce of surface tension, resulting in a "corset" holding the insidescontained, very similar to a candy which is held inside a wrap because its endsare twisted (more details in the images' captions).
该塔楼利用创新的结构系统,这完全决定他的外形。由于场地极度受限,因此选择消除周围柱子并且用一组钢缆替代,钢缆围绕塔楼的高度运行扭转,从而实现很轻但是很坚固的结构组装。钢缆被锚定在很深的基础上,设备区设置在上部结构环的核心地方。钢缆螺旋设置—扭转—创造了一股表面的张力,形成包住内部的"紧身衣"的形态,因为其末端是扭曲的,所以非常类似于存在包装内的糖果(更多细节在图片说明中)。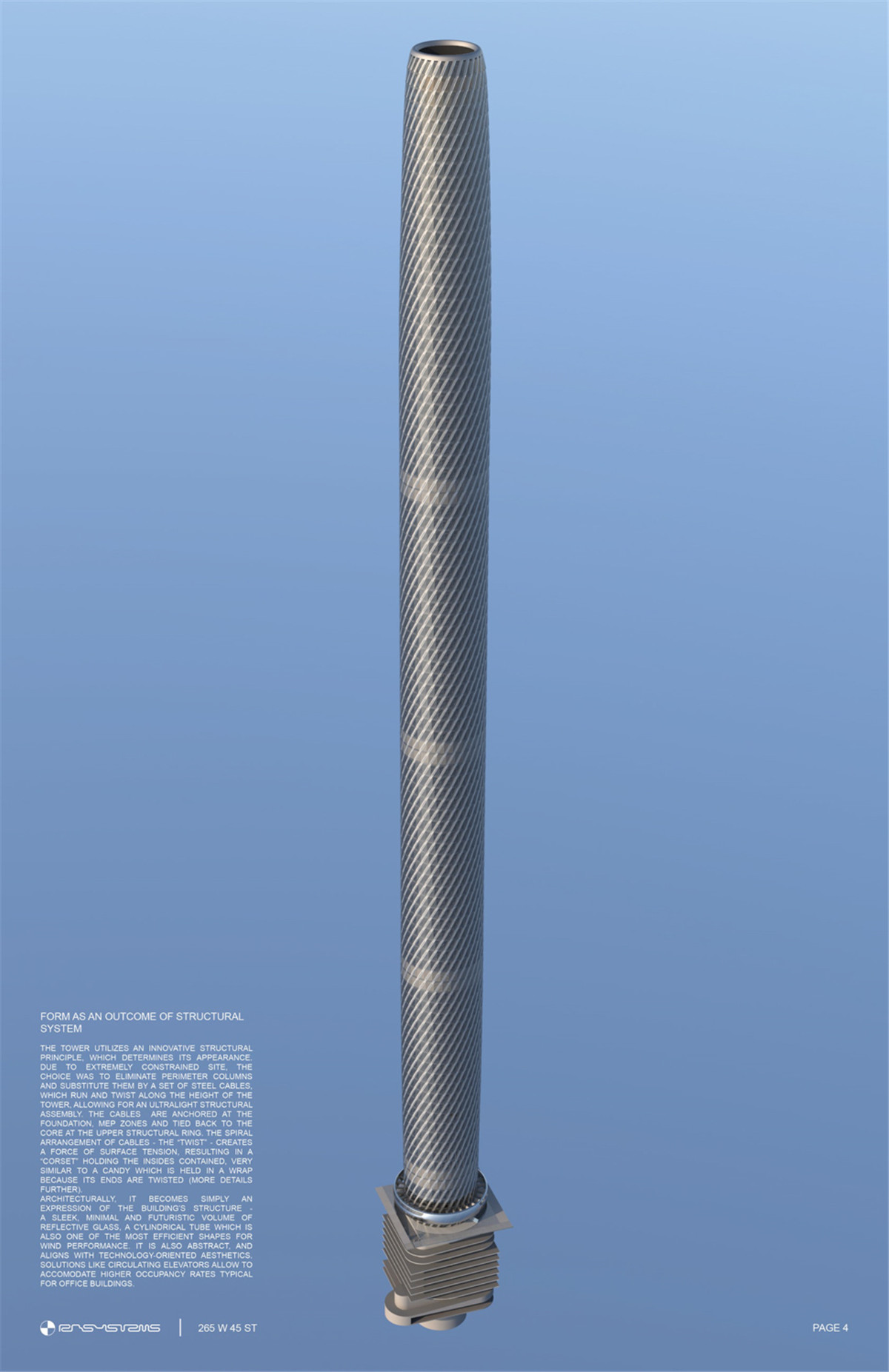 Architecturally, it becomes simply anexpression of the building's structure - a sleek, minimal and futuristic volume of reflective glass, acylindrical tube which is also one of the most efficient shapes for windresistance. It is also abstract, and aligns with technology-orientedaesthetics. Solutions like circulating elevators and multi-story lobby withautomatic visitors' dispatch systems allow to accommodate higher occupancyrates typical for office buildings.
在建筑方面,它简单的表达了建筑的结构—光滑、极简和未来主义的反光玻璃体,一个圆柱形管,也是抗风压最有效的形式之一。它也是抽象的,与技术导向美学一致。这些解决方案像循环电梯和结合访客自动调度系统的多层大堂满足典型办公建筑容纳更高的入住率。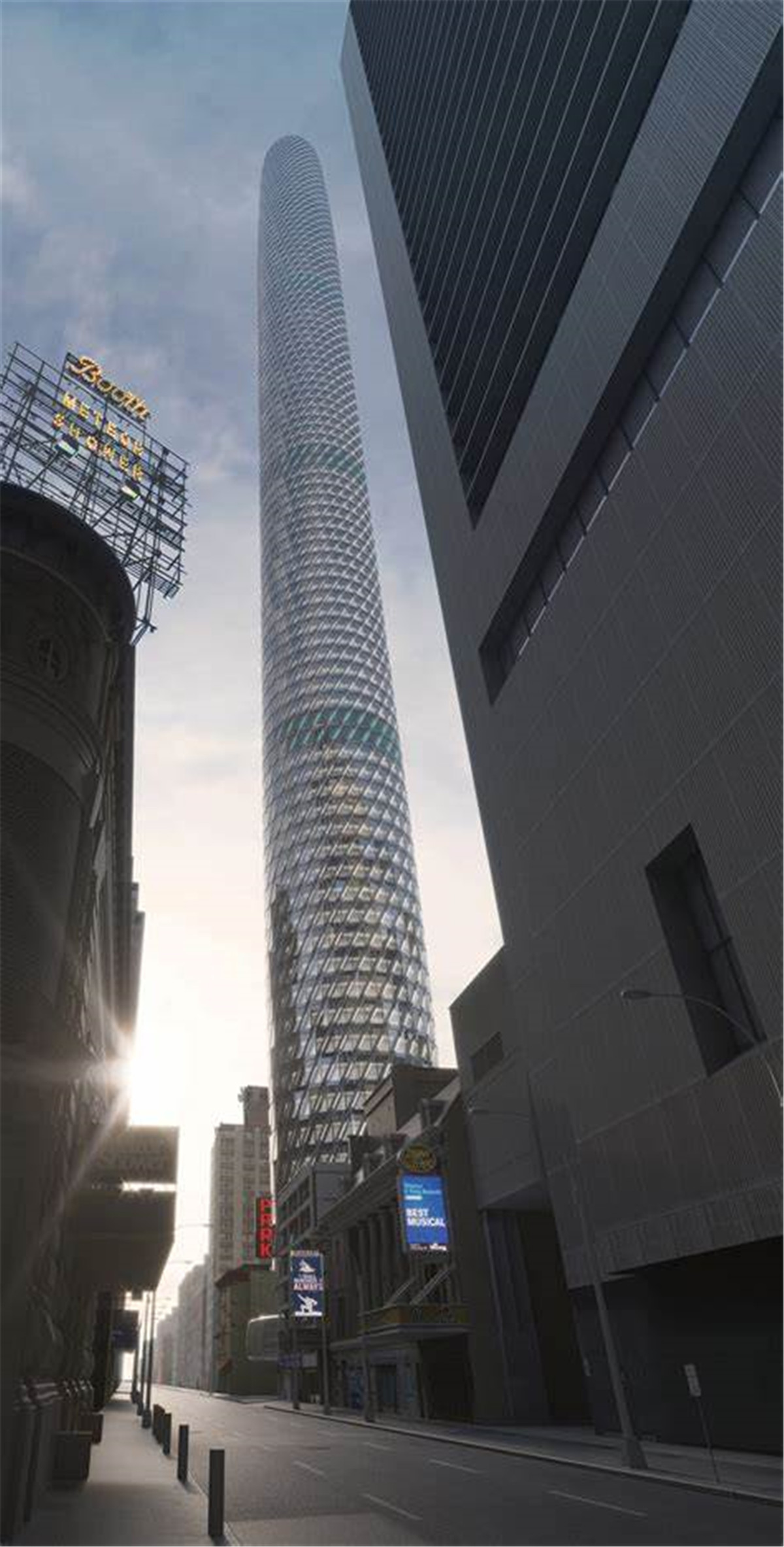 REDEFINING THE STREET
重新定义街道
The goal was to design the block'scenterpiece which by its alien-like appearance would contribute to theextremely diverse, charging, energetic and ever-progressing built environmentof New York. A dazzling shine of reflective glass and chrome, modernity ofaluminum, and dynamic shapes are called to create a dominating presence andstature on 45th St, increasing values of surrounding properties.
这个目标是设计地块的核心,其外星人般的外形将有助于纽约极为多样,充电,活力和不断进步的建筑环境。反射玻璃和铬的耀眼光泽,铝的现代感和动态形式被称为在第45街创造一个主导存在的形态,增加周围属性的价值。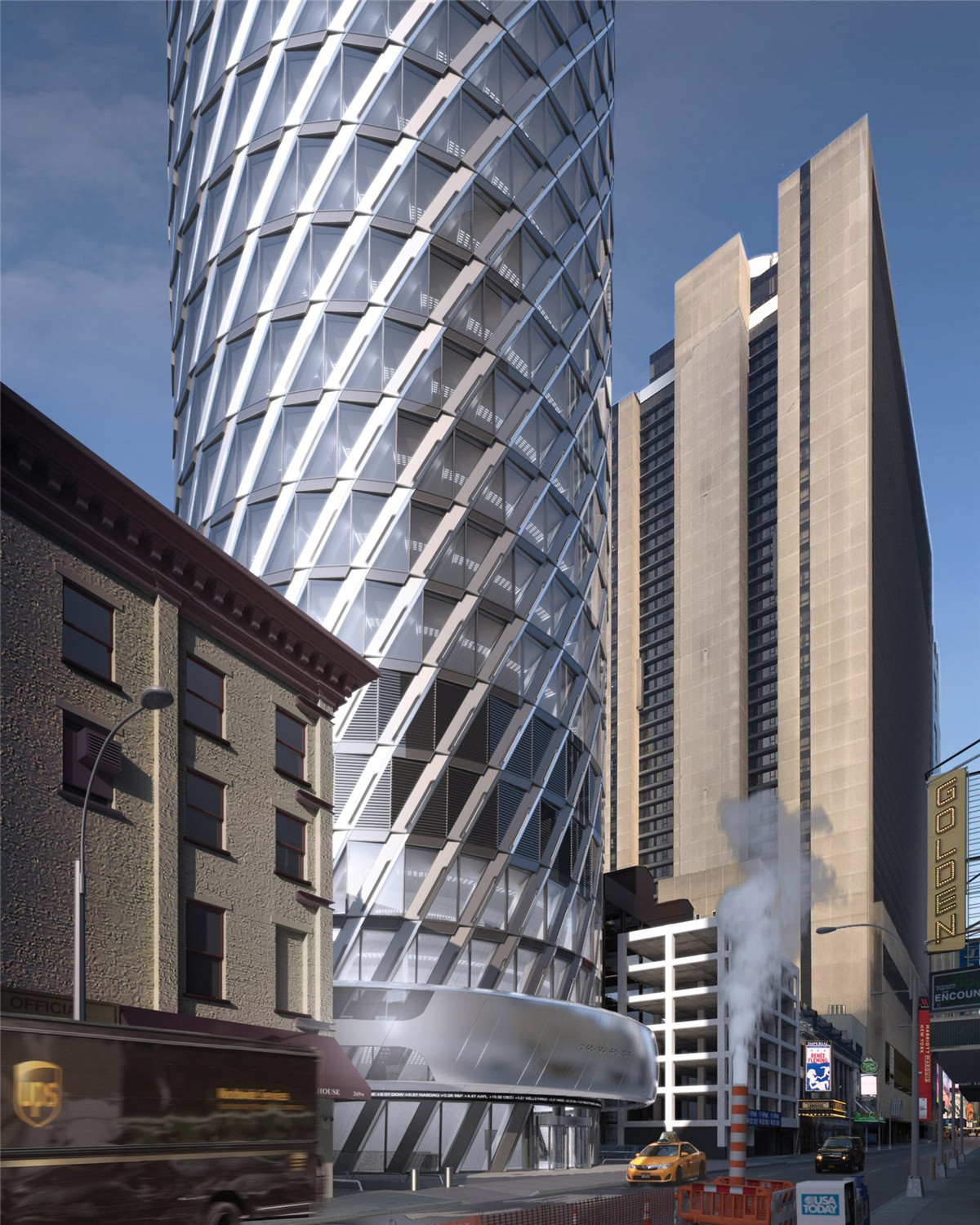 "HALO" ENTRANCE CANOPY
"光环"入口雨棚
One of the most distinctive features of thedesign is the "Halo" canopy – a toroid volume soaring above the entrance plaza.Clad in reflective glass on the sides and in bead-blasted chrome panels at thefront and back, it subtly reflects the surroundings, as well as definitelyprovokes an interest and desire to get closer, to walk in, to reveal what ishidden behind such futuristic, drastically different form, unlike any othertower canopy in Manhattan.
最独特的设计特征之一是"光环"雨棚—一个环形体从入口广场升起。雨棚两侧采用反光玻璃包覆,正面和背面采用喷砂处理的镀铬面板,巧妙的反射出周边环境,同时也引起人们的兴趣和渴望并且想要接近,走进去,看看如此未来感十足,个性的雨棚背后隐藏着什么,它不像曼哈顿任何其他塔楼雨棚的。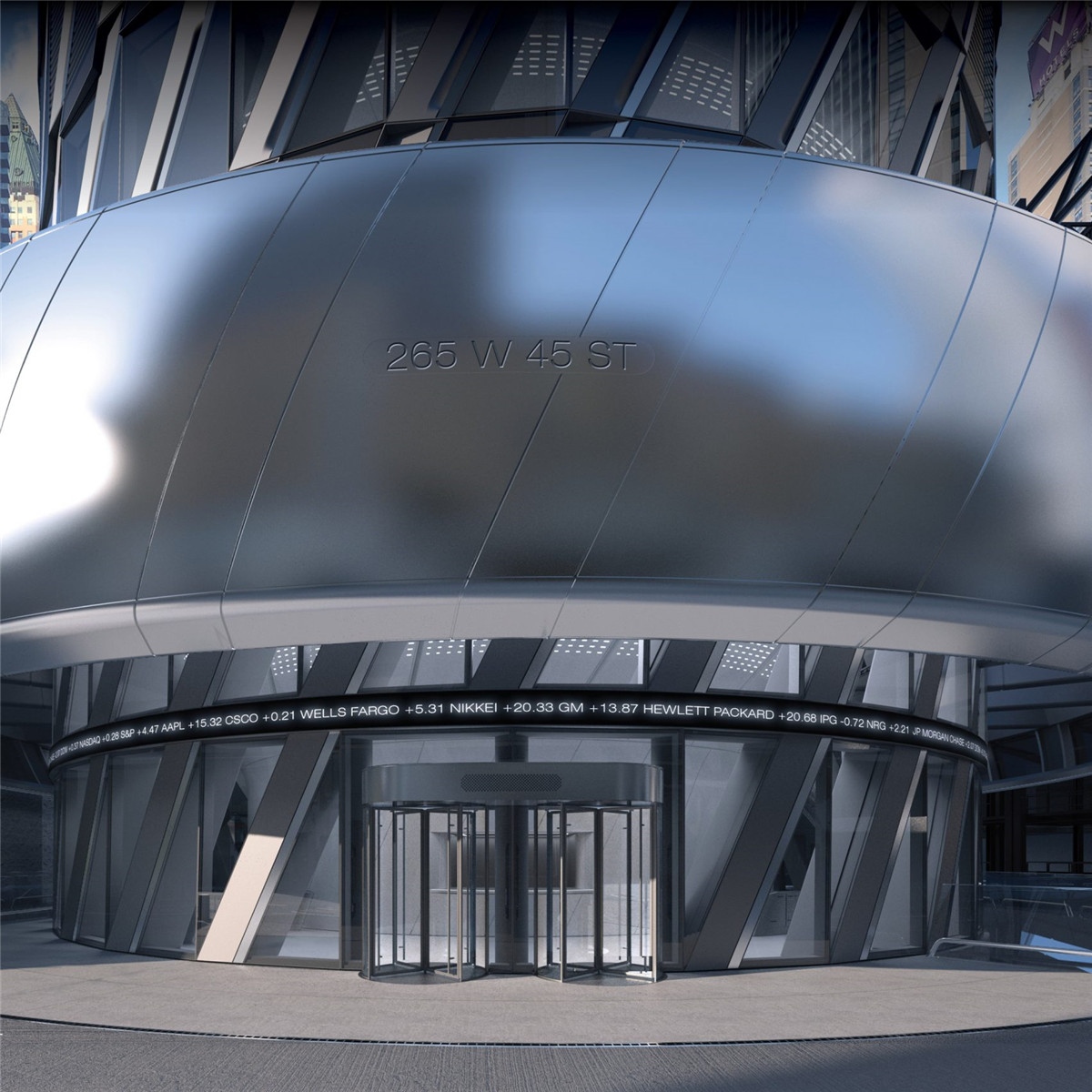 ENTRANCE LOBBY & OBSERVATION DECK
入口大堂&观景平台
With a common visual characteristic andshared materials and design features, these two spaces are though different andeach captivating in its own respect. The entrance lobby, which greets a visitorwith an austere multi-story space, is a first glimpse into very modern, technology-driveninteriors of the tower. Surrounded by the dark canyon of Midtown, it stillrelies heavily on artificial lighting, yet already perceives as a gateway intobright and light-filled spaces of the offices and beyond, as the tower risesinto the sky to leave behind the noise, smoke and fuss of what we so lovelycall "The Capital of the World". In double-deck elevators visitors reach thevantage point – an observation deck at level 96, which provides 360-degreeunobstructed views of the city and allows to rest and meditate in serene andlight-filled space.
这两个空间有一个共同点视觉特质和共享材料和设计特征,尽管彼此不同但每个方面都有其独特的魅力所在。入口大堂以一个朴素的多层空间迎接参观者,并且是进入这个非常现代,科技驱动的塔楼室内的第一印象。在被很暗的中城峡谷包围,建筑仍然很依赖人工照明。随着塔楼上升进入天空,留下身后我们如此可爱的"世界之都"的噪音,烟雾和大惊小怪,已经被视为通往明亮和充满光的办公空间甚至更远处的门户。访客通多双层电梯到达优越视线的地方——一个在96层的观景平台,提供360度无遮挡的城市景观并且可以休息和沉思的安静明亮的空间。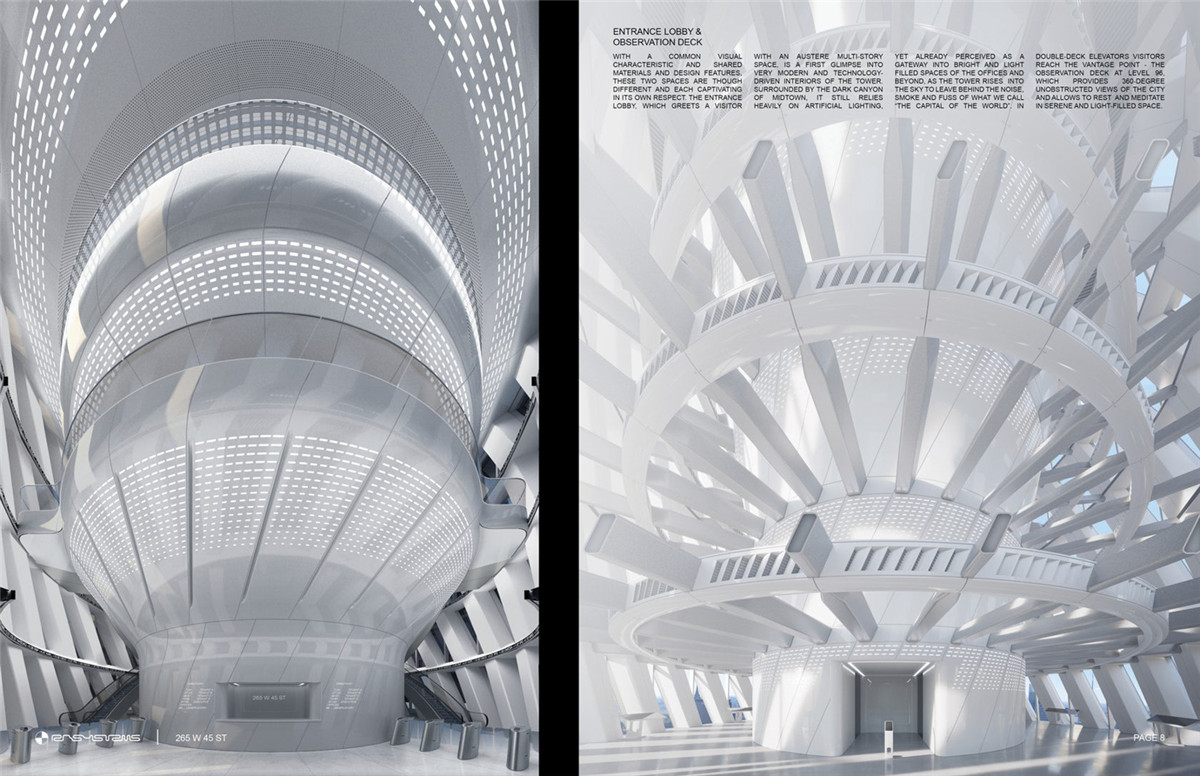 HIGH-PERFORMANCE FAÇADE
高性能的立面
A distinctive feature of the tower, it wasscripted in parametric software to wrap the smooth and curvilinear shape of thebuilding, and panelize it into flat panels comprised of paired triangles. Theslim (only 500mm in height) spandrel extends from the glazing panels above toallow for continuity of glass reflections and prevention of leakage. Each panelis tilted for 1 degree towards inside of the building. The boxes which thecables run inside of are capped by aluminum stamped panels with integrated andsoftware-controlled rotating vents for natural ventilation / conditioning.Tapered ends of slab allow for more daylight penetration, yet high-performanceglass coating blocks excessive thermal gain.
塔楼的独特之处是在软件参数化编写的脚本下包裹光滑的曲线形状,用成组的三角平板组合而成。纤细(仅500mm高)的隔板从上方的玻璃面板延伸,以确保玻璃反射的连续性并防止泄漏。建筑每个面板朝室内方向倾斜一度。电缆在其中穿过的盒子被铝压制面板覆盖,铝压制面板带有集成的软件控制的旋转通风孔,用于自然通风/调节。平板的锥形端允许更多的日光穿透,但是高性能的玻璃涂层会阻止过多的热增益。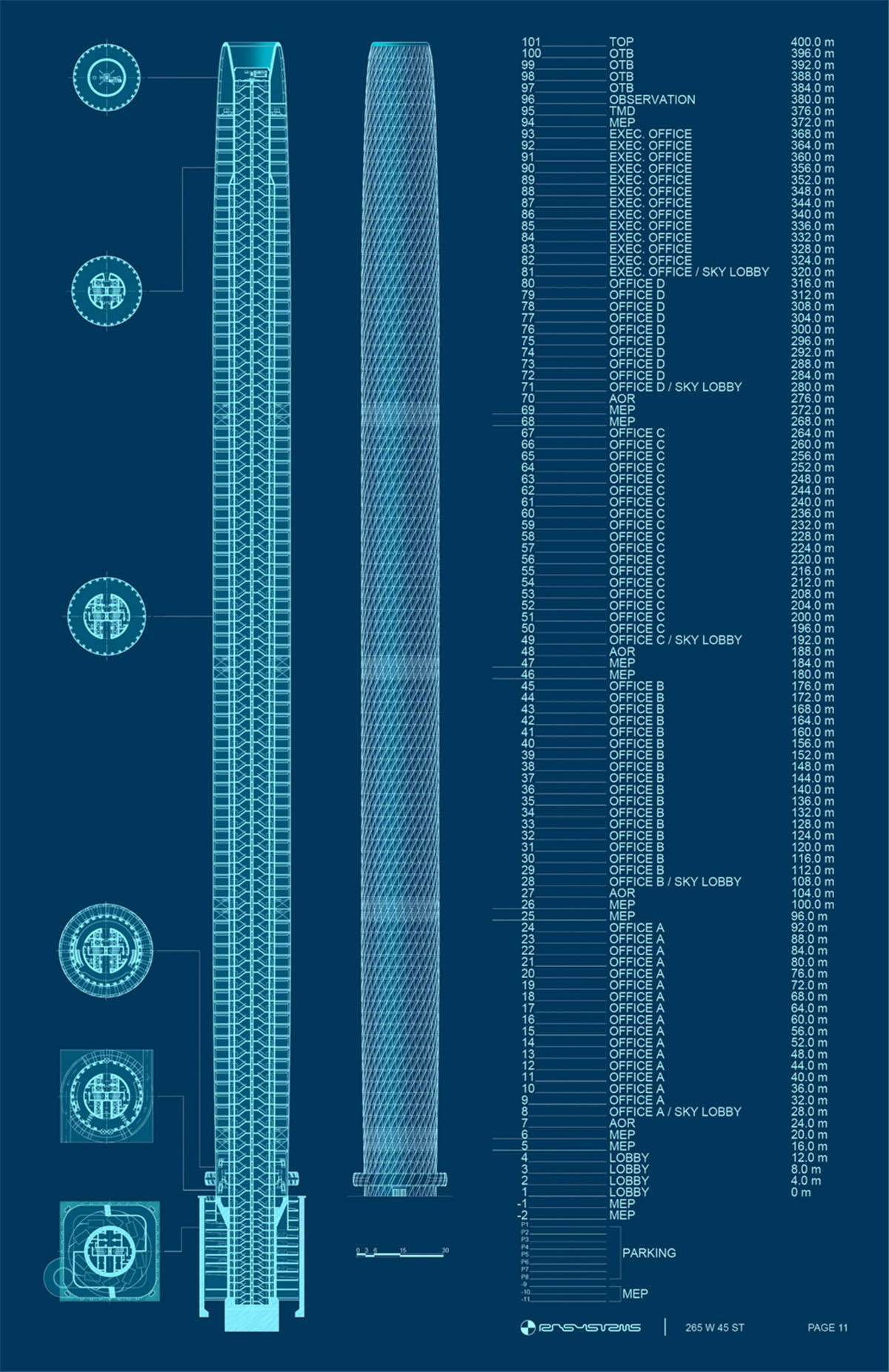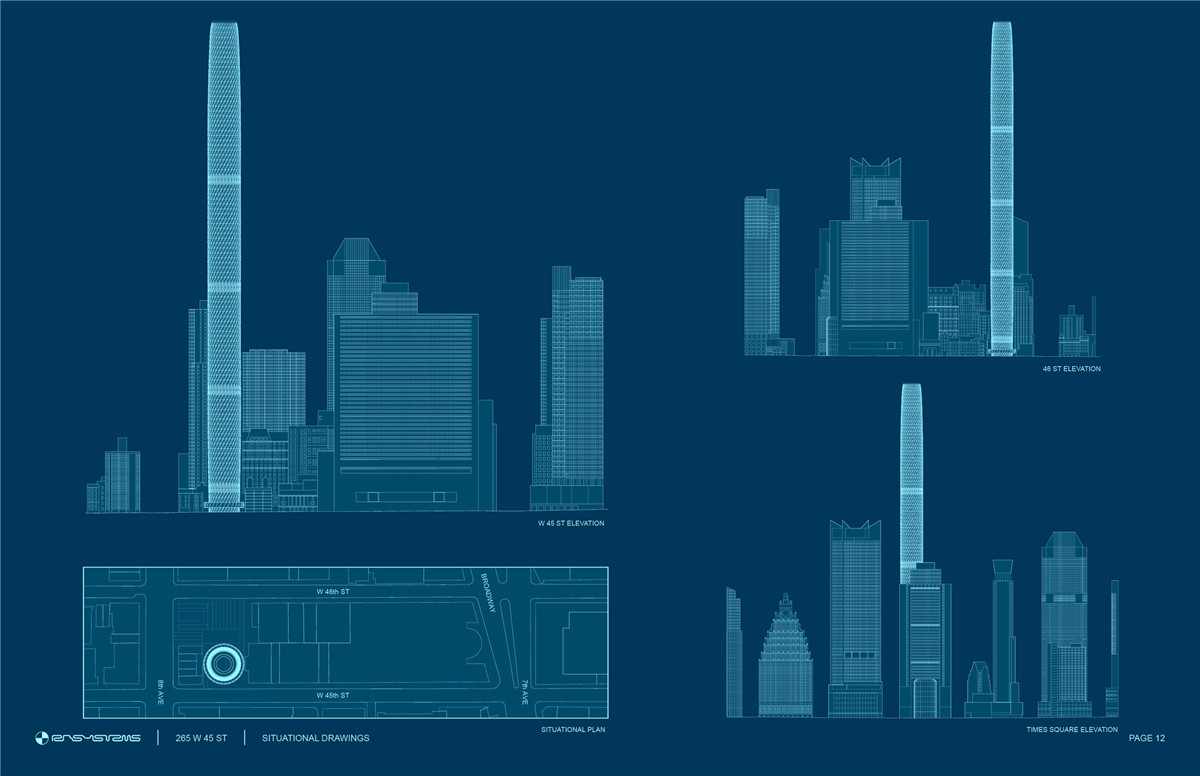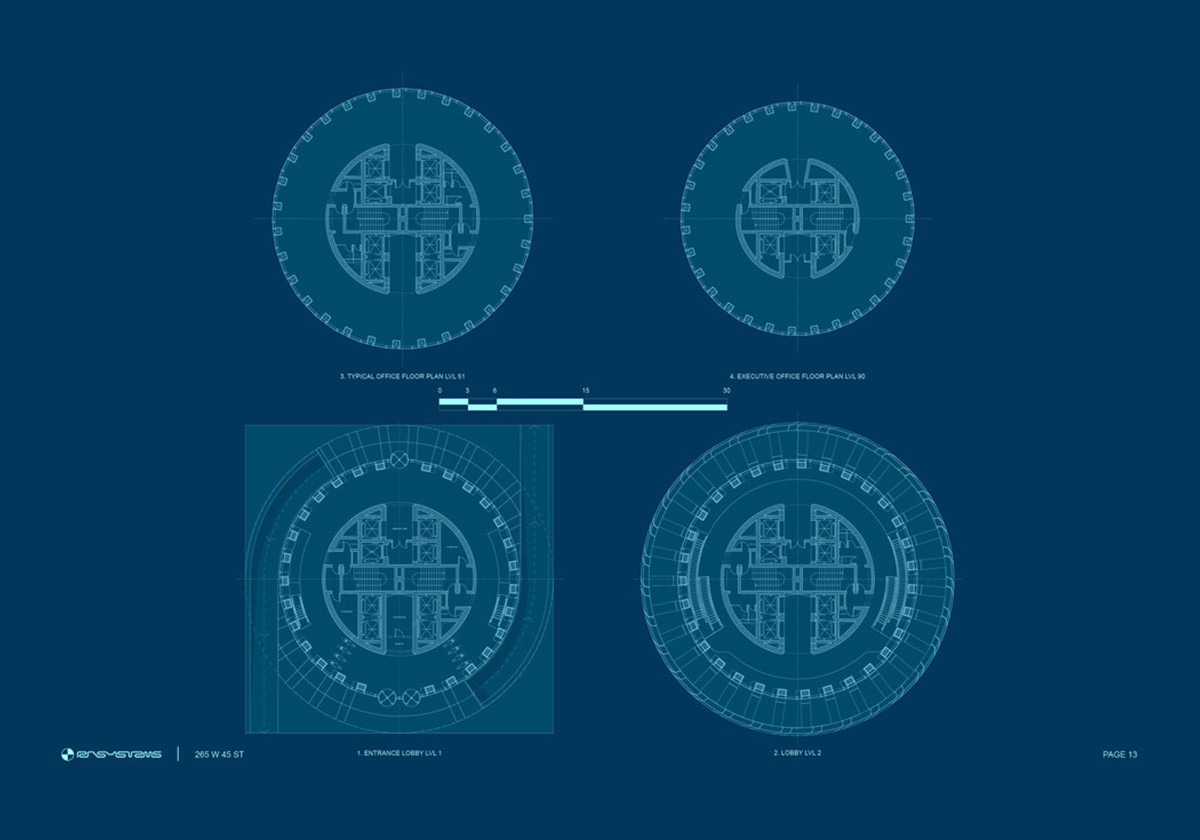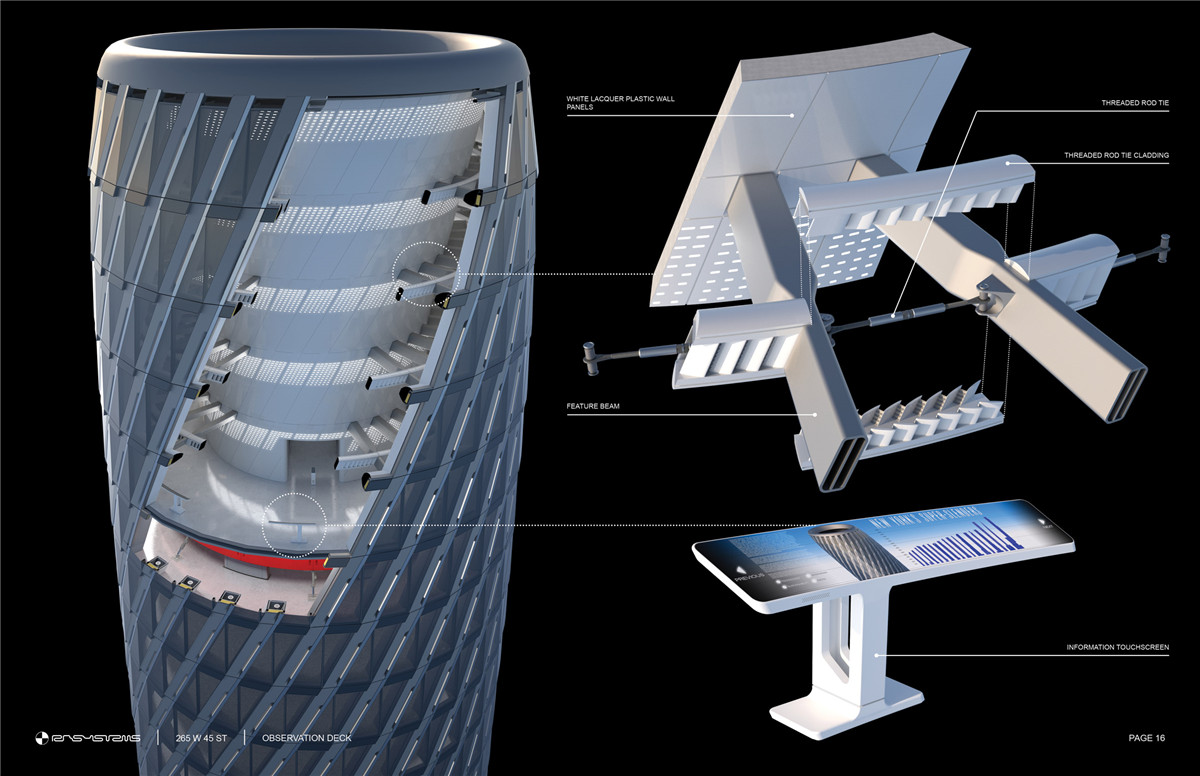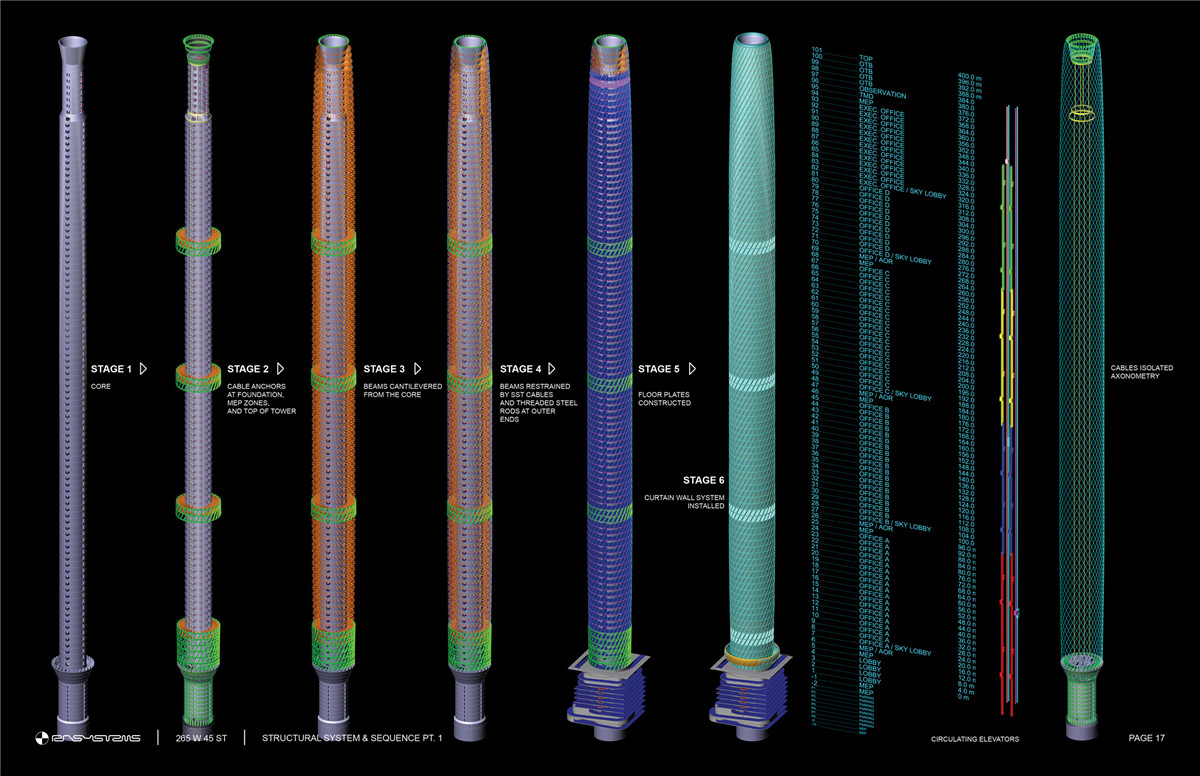 ERGONOMIC WORKPLACE
人体工学的工作空间
As part of the tower's integrated designapproach, the furniture was also engineered to fit the space precisely. Due tothe recently formulated risks which prolonged seating poses on health of modernworkers, it is crucial to equip the space with ergonomic, sit-standtransformable furniture. The desks are hanging from the ceiling on gas-liftarms which allow for an easy individual adjustment of their height androtation/position, as well as quick office layout/seats quantityreconfiguration based on minute needs of a tenant.
作为塔楼综合设计的一部分,家具也精心设计以精确的适应空间。由于最近制定了风险,延长了现代工人的就座时间,因此,为该空间配备符合人体工学原理的可坐立变换式家具至关重要。办公桌悬挂在天花板上的气举臂上,可轻松调整其高度和旋转/位置,并根据租户的微小需求快速进行办公室布局/座位数量的重新配置。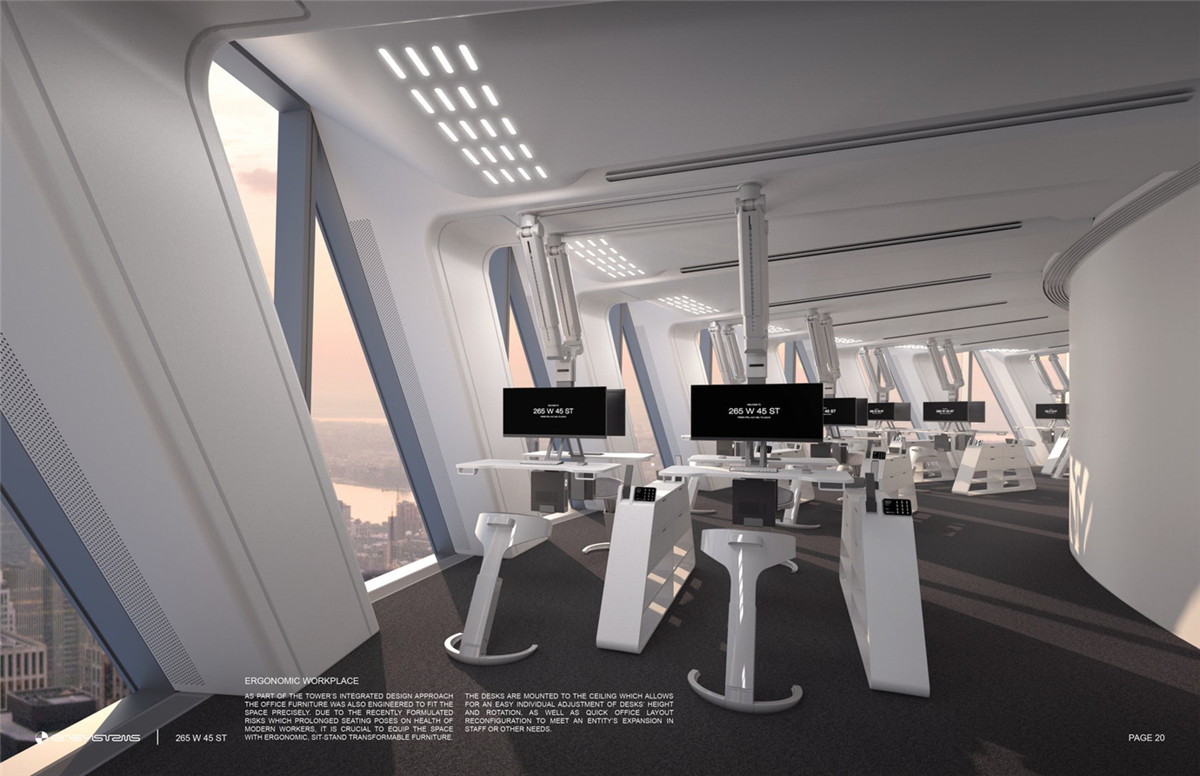 TUNED MASS DAMPER
调谐质量阻尼器
Due to extremely dense spatial arrangementof the tower, a solution for locating a multi-ton tuned mass damper had to benon-trivial. The idea was to design a toroidal damper, which will not take upspace directly on top of the core, to leave it free to locate elevator overrunsand to provide continuity of evacuation paths such as stairs inside of thecore. Thus, the damper circles the core with even distribution of mass, and issoftware controlled to counteract sways caused by high-velocity winds.
由于塔架的空间布置非常密集,因此,定位多吨调谐质量阻尼器的解决方案必须是轻而易举的。这个概念是设计一个环形阻尼器,它将不会直接占用核心筒顶上的空间,以让这个空间可以自由让电梯冲顶和提供连续疏散路径,例如核心筒中的楼梯。因此,减震器以均匀的质量分布环绕铁心,并通过软件控制以抵消由高速风引起的摇摆。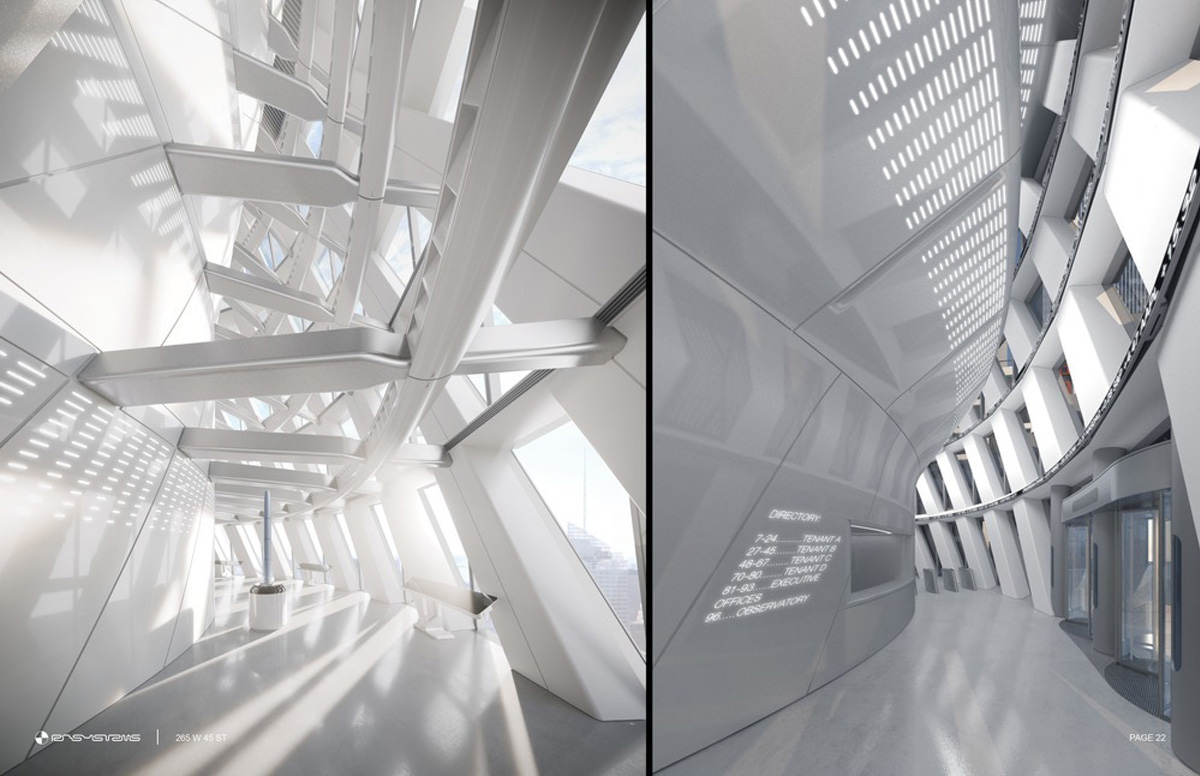 SEE MORE RB-Systems‍