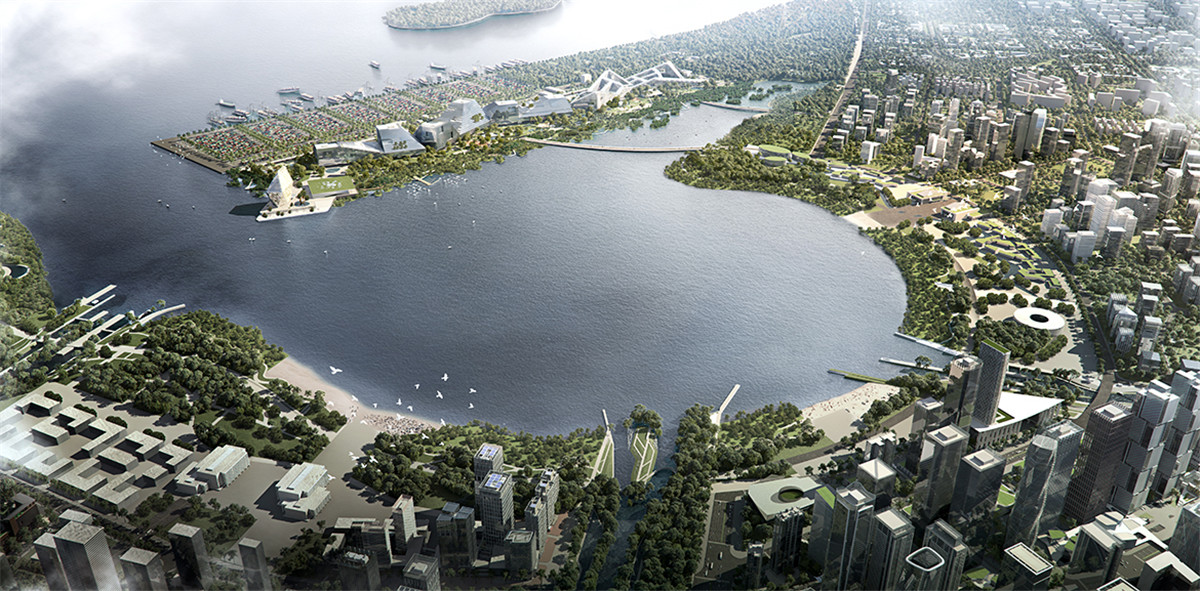 Tencent Crystal City is an ambitious vision for Qianhai, a district situated at the threshold of Hong Kong and mainland China. The area occupies a position of strategic significance in the Pearl River Delta, and is driven by Tencent, one of the world's largest internet companies. The project is a harmonious combination of nature, community, and technology spread over 2.6 million square meters for Tencent's employees. It comprises dynamic workspace, a residential complex, a convention center, a hotel, and supporting facilities for education, health, sports, and infrastructure.
腾讯水晶城是前海一个雄心勃勃的愿景,他是一个香港和中国大陆的新门户。该地区在珠三角具有战略意义,由全球最大的互联网公司之一腾讯(Tencent)推动。该项目是自然、社区和技术的和谐结合,为腾讯员工提供了260万平方米的空间。它包括动态工作区、住宅综合体、会议中心、酒店以及教育、健康、体育和基础配套设施。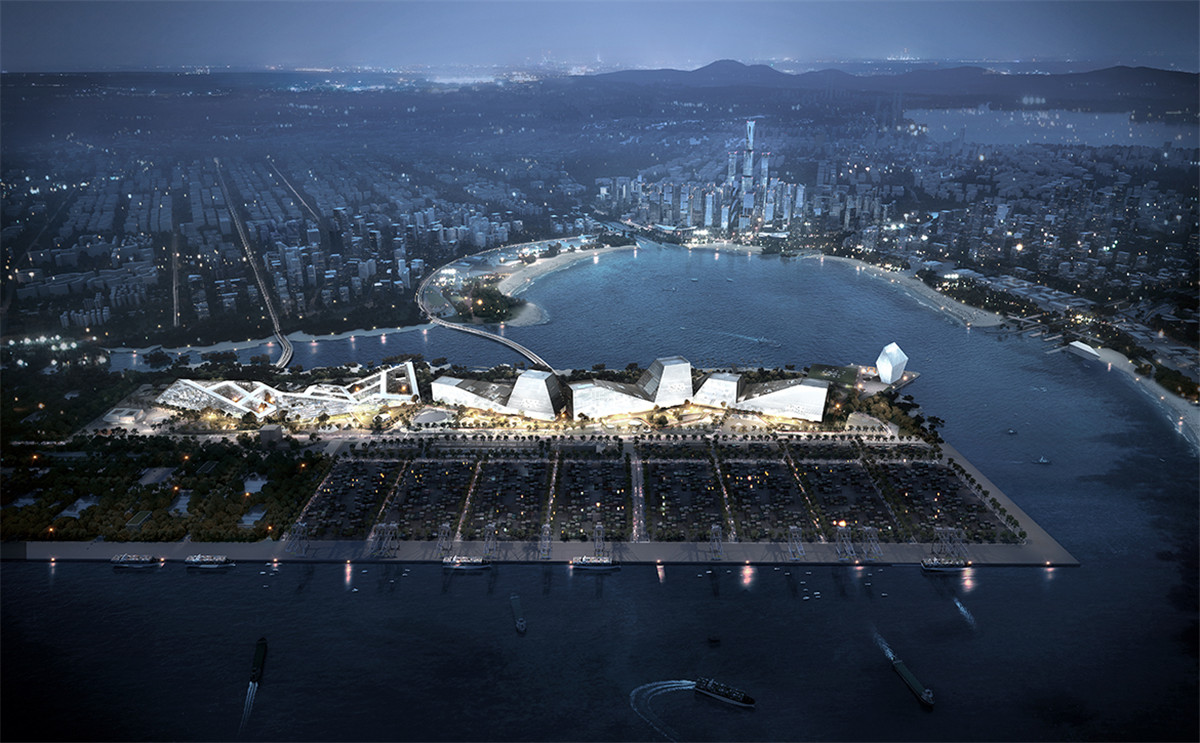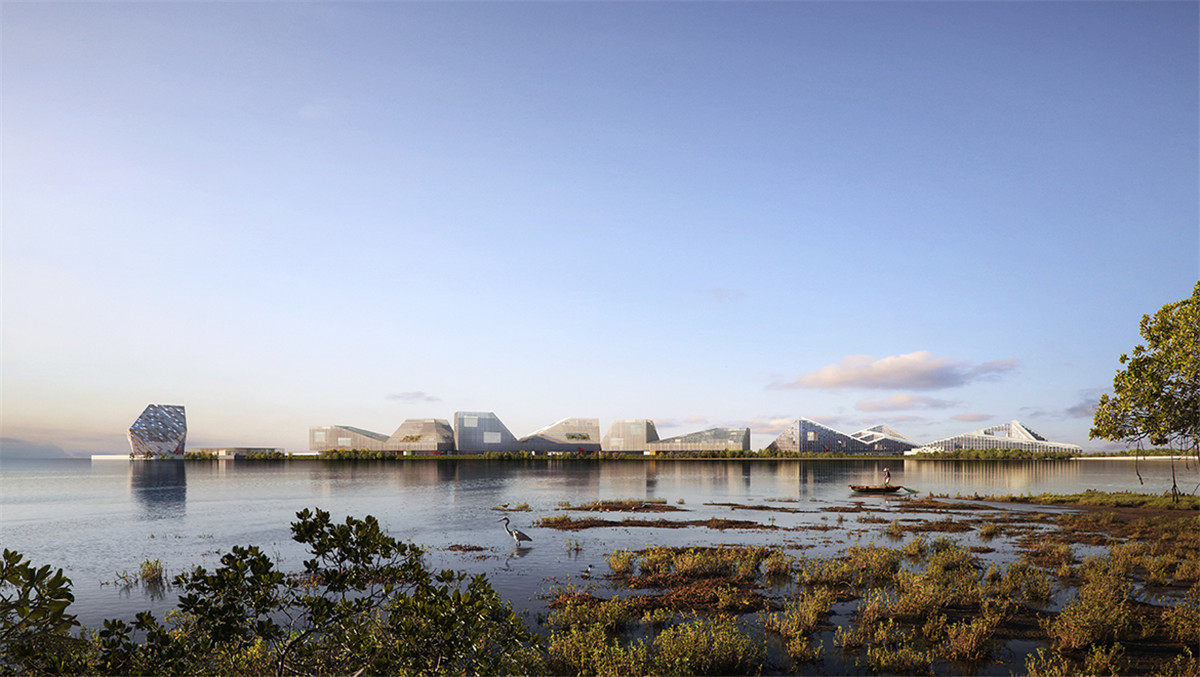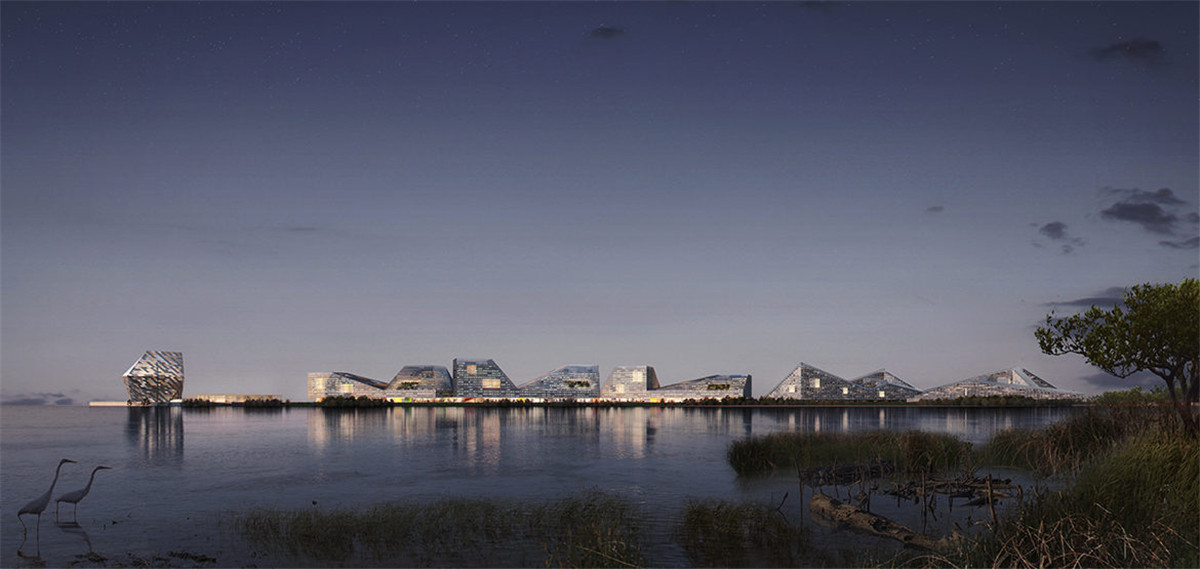 The design proposal is a departure from typical urban planning typologies. A series of pyramidal, crystal-like structures provide a flexible program in between functions, which include both large scale floor plans and smaller, more intimate spaces for gathering and interaction.
设计方案与典型的城市规划类型不同。一系列金字塔形、晶体状的结构在功能之间提供了一个灵活的形态,其中既包括大尺度的平面空间,也包括更小、更私密的聚集和互动空间。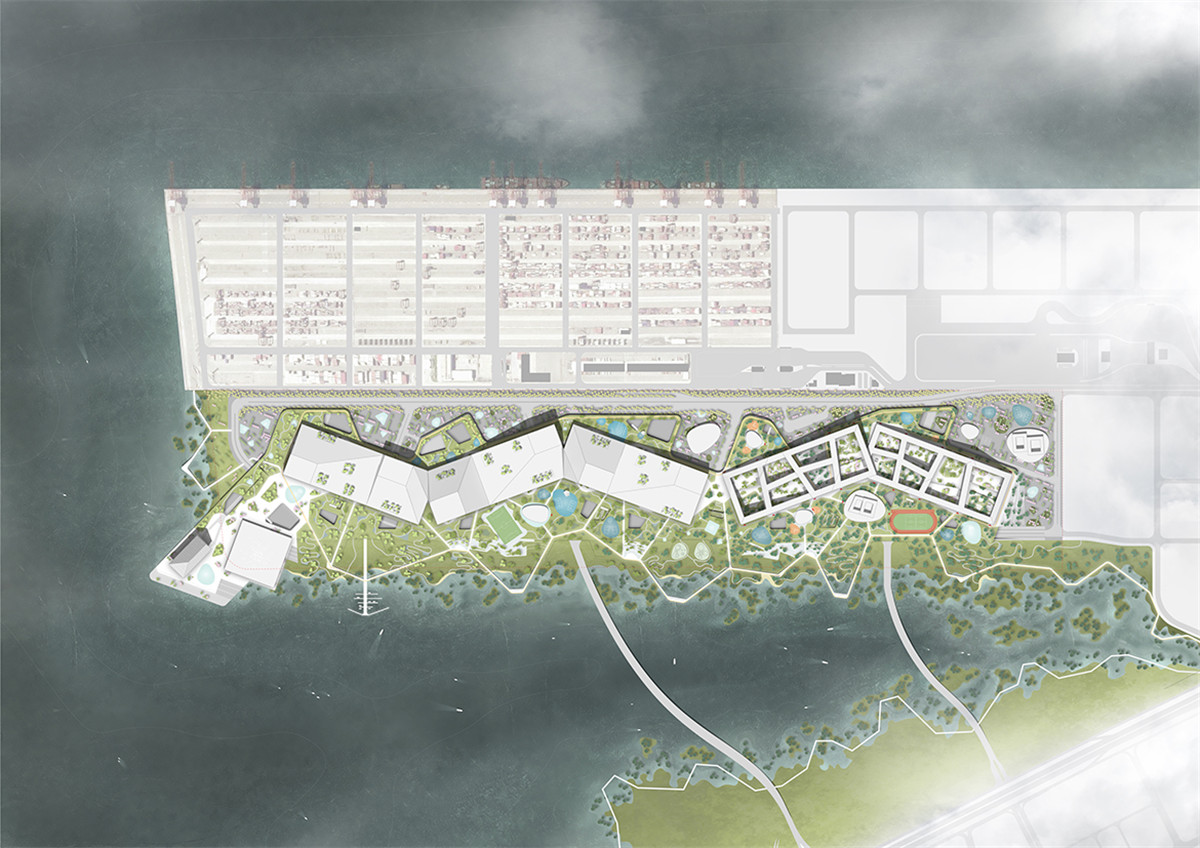 Generous green spaces are designed on either side of the buildings in order to provide a buffer from the neighboring container port and to offer active waterfront public spaces.
建筑两侧均设计了宽敞的绿地,以提供与邻近集装箱港口的缓冲区,并提供活跃的滨水公共空间。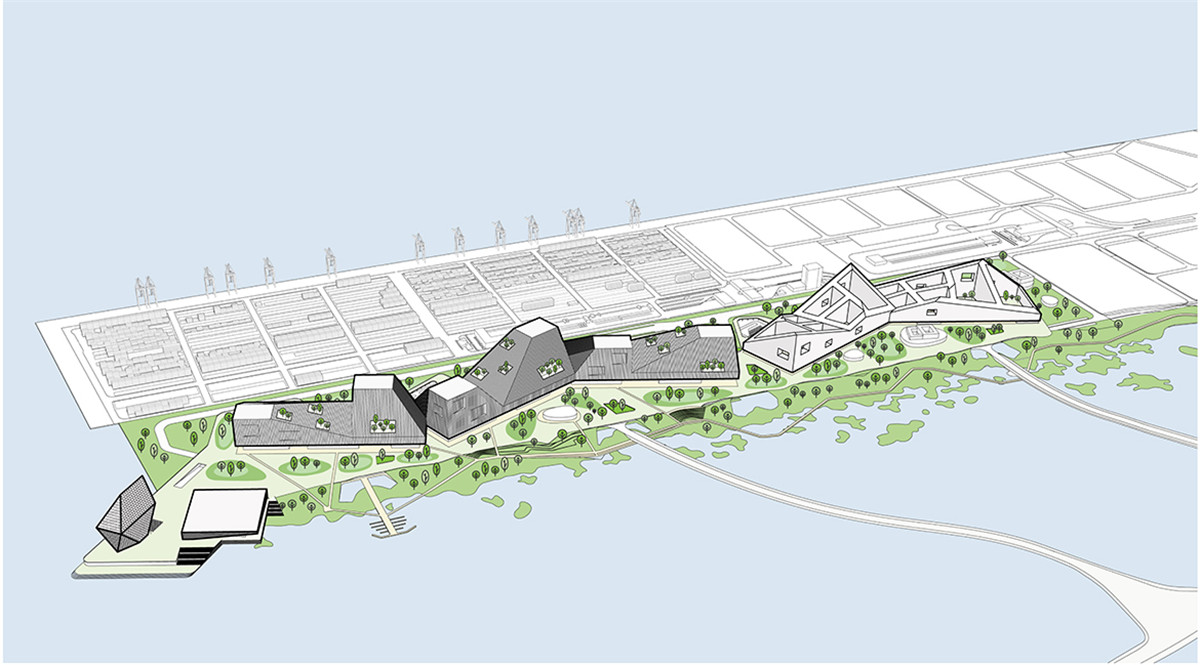 The crystalline shapes of the campus seek to create an iconic focal point for the entire district, and a new symbol for Qianhai. The complex' multi-functional design reflects the values behind Tencent; a company with an array of different divisions working together to create global impact.
园区水晶般的形状为整个地区创造了一个标志性的焦点,也为前海创造了一个新的象征。复杂的多功能设计反映了腾讯背后的价值观;腾讯是一家拥有一系列不同部门的公司,共同努力创造全球影响力。
Tencent Crystal City aims to become an extension of the grand public ring around Qianhai Bay and a new distinctive 'face' for Shenzhen towards the sea. A rich wetlands park is designed to connect directly with an entirely public level that will become a new landmark in this rapidly growing area. Qianhai will eventually have a staggering 1.5 million inhabitants.
腾讯水晶城的目标是成为前海湾大公共环的延伸,成为深圳面向大海的一张新的有特色的"面孔"。使得一个丰富的湿地公园被设计成直接与完全公共的空间相连接,从而成为这个快速增长地区的新地标。前海最终将有150万居民。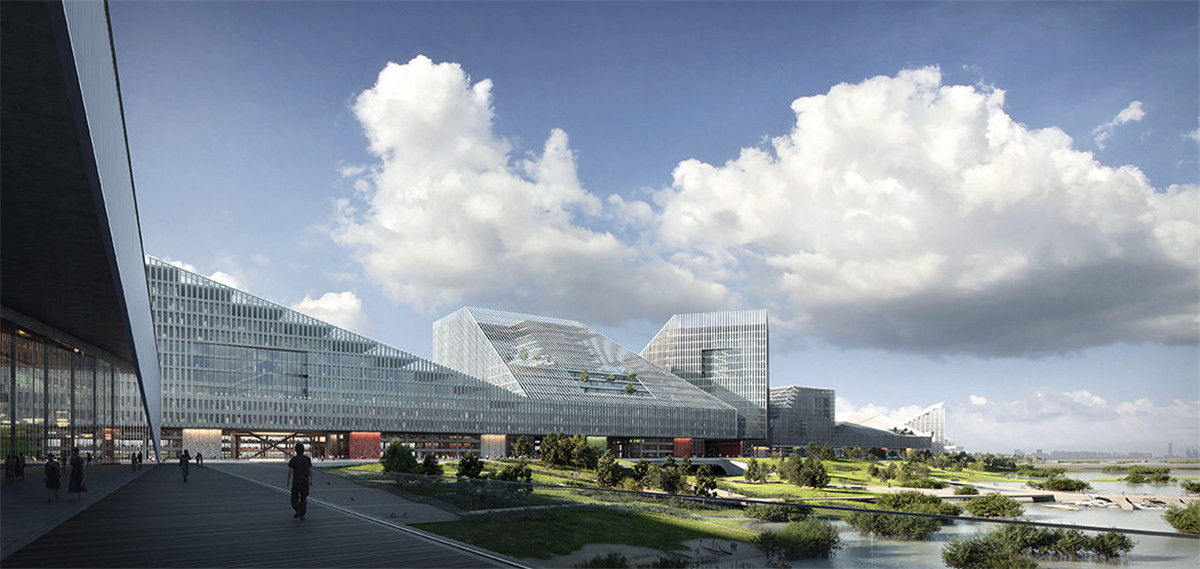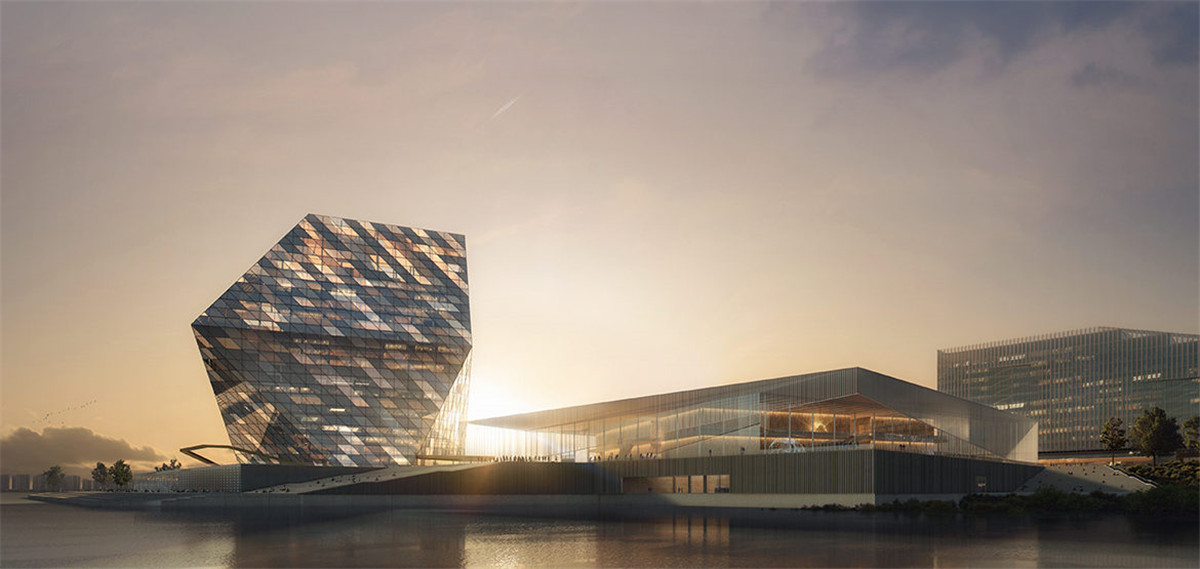 The campus will exist at the intersection of nature, community, and technology. The district will be an enormous testing ground for a new Tencent lifestyle that combines smart passive strategies in the urban landscape and active technologies to create new communities.
园区将存在于自然、社区和技术的交汇处。该社区将成为腾讯新生活方式的巨大试验场,将城市景观中的智能被动策略和主动技术相结合,而创造出的新社区。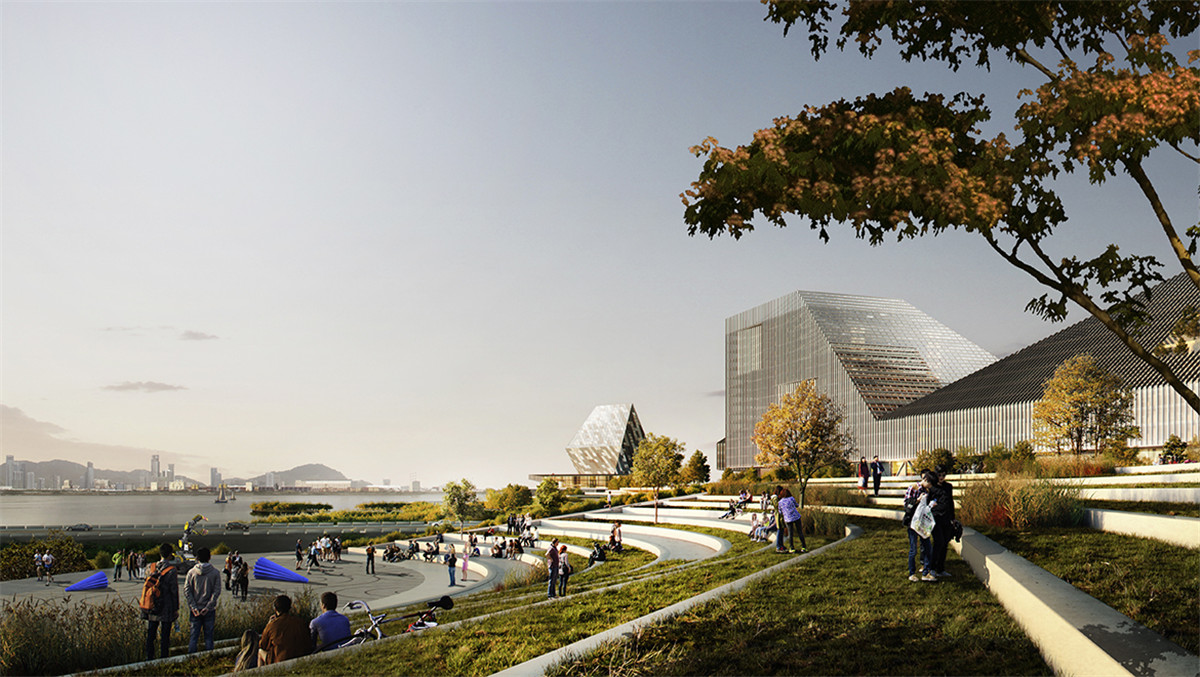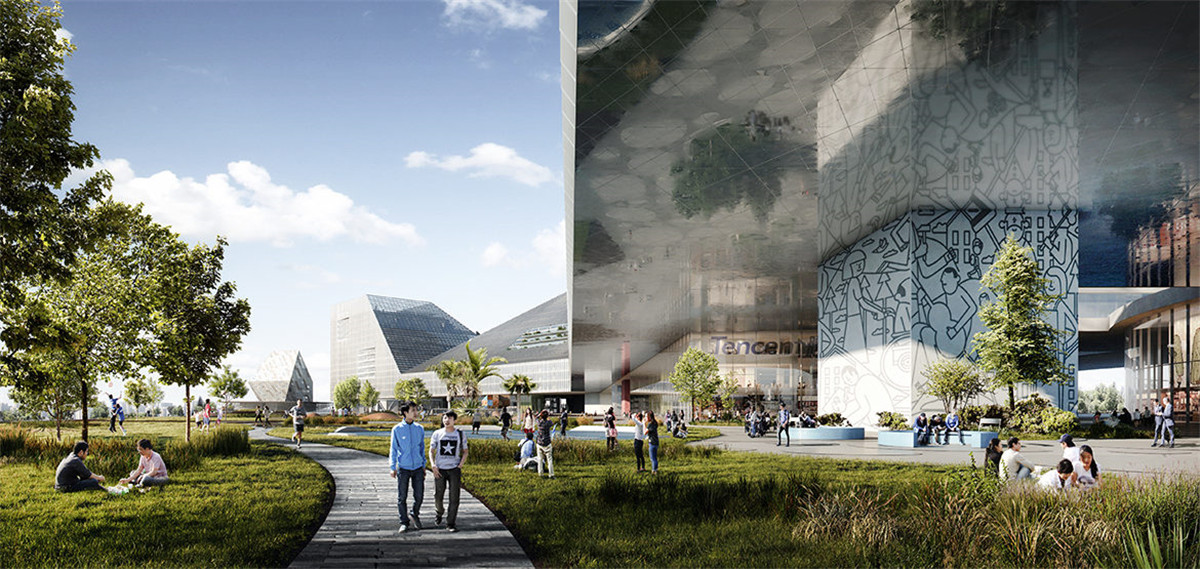 This ambitious and visionary development for the fast-growing tech company Tencent is designed to be as flexible as possible, accommodating future changes in the company's strategic needs.
腾讯是一家发展迅速的科技公司,其雄心勃勃、富有远见的发展目标是尽可能灵活,以适应未来腾讯战略需求的变化。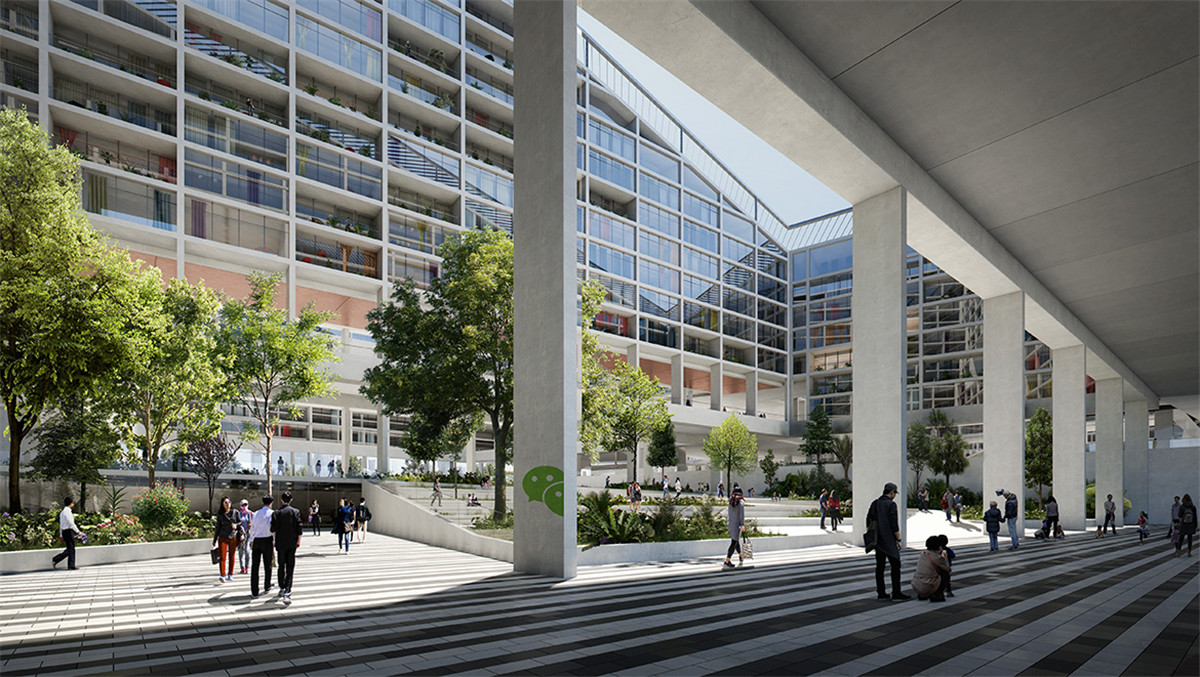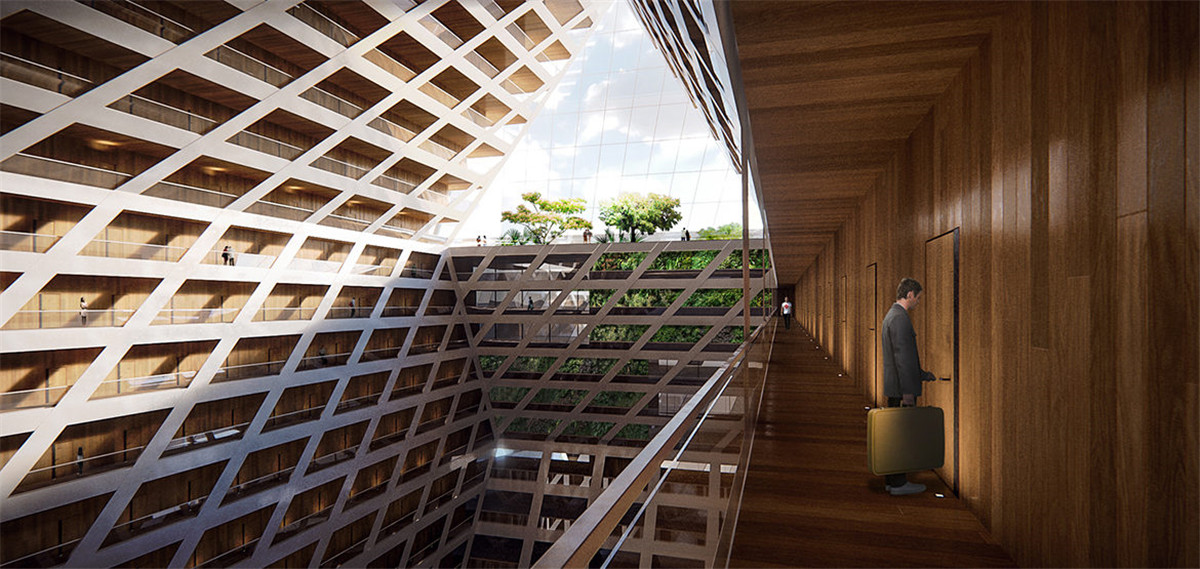 Tencent can use the connection to public areas to exhibit and test new initiatives and products. In contrast to the closed nature of many tech headquarters, the raised buildings offer privacy for employees while turning the landscape below into a public destination.
腾讯可以利用与公共区域的连接来展示和测试新的方案和产品。与许多科技总部的封闭性不同,这些凸起的建筑为员工提供了隐私空间,同时将下面的景观空间变成了公共目的地。
Auto traffic will be limited to outer areas and people will travel to their final destination by biking or walking whenever possible. In this way, nature and people are at the centre of the campus.
汽车交通将限于外围地区,人们将尽可能骑自行车或步行前往最终目的地。这样,自然和人就成了园区的中心。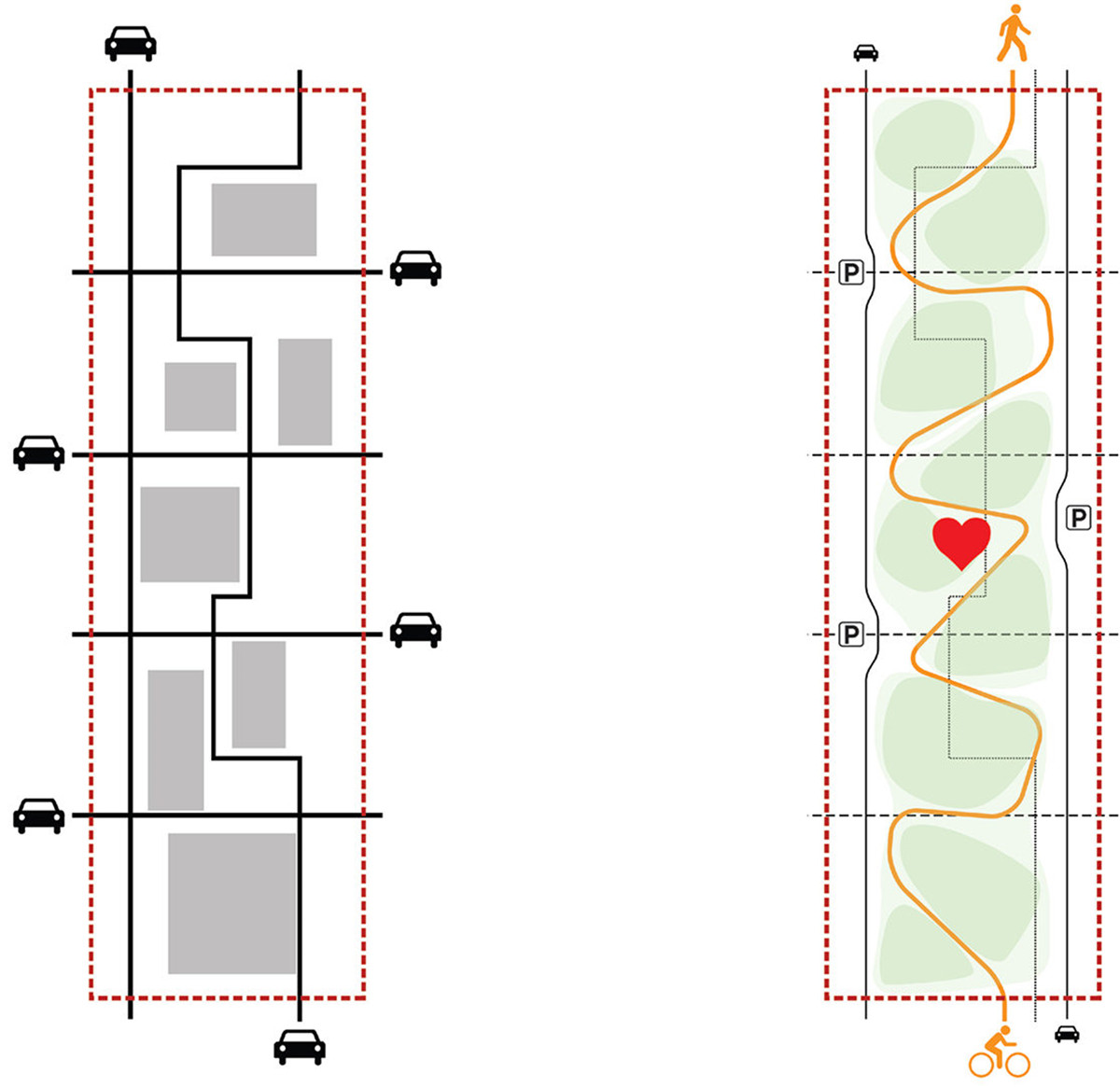 The waterfront park will return the coastline to the mangrove-filled wetlands that existed before Shenzhen's urbanization in an effort to help clean the bay's water. New landscape features such as sports fields and green amphitheaters combine functionality and beauty as well as create microclimates to mitigate the tropical environment of the city. The extensive landscape and wetlands park will also help to manage rainwater and protect the campus in stormy conditions.
滨海公园将把海岸线恢复到深圳城市化之前的红树林湿地,以帮助净化海湾的水。新的景观特色,如运动场和绿色竞技场结合功能和美丽的环境,并创造出小气候,以减轻城市的热带环境效应。广阔的景观和湿地公园也将有助于在暴风雨中管理雨水和保护园区。


The project offers large, tall, open floorplates that are highly reconfigurable. Space under the landscape deck is also adaptable to future changes, even after construction, as forces such as automated driving threaten to change the way cars are used and parked.
该项目提供了大,高,开放式地板,高度可重构。景观甲板下的空间也能适应未来的变化,即使是在建造之后,因为自动驾驶等力量有可能改变汽车的使用和停放方式也能适应。
The new campus will not force people by regulations to walk or bike but simply make healthy sustainable transit the best choice by using microclimates and smart circulation strategy.
新园区不会强迫人们按规定步行或骑自行车,而只是利用小气候和智能流通策略,使健康、可持续的交通成为最佳选择。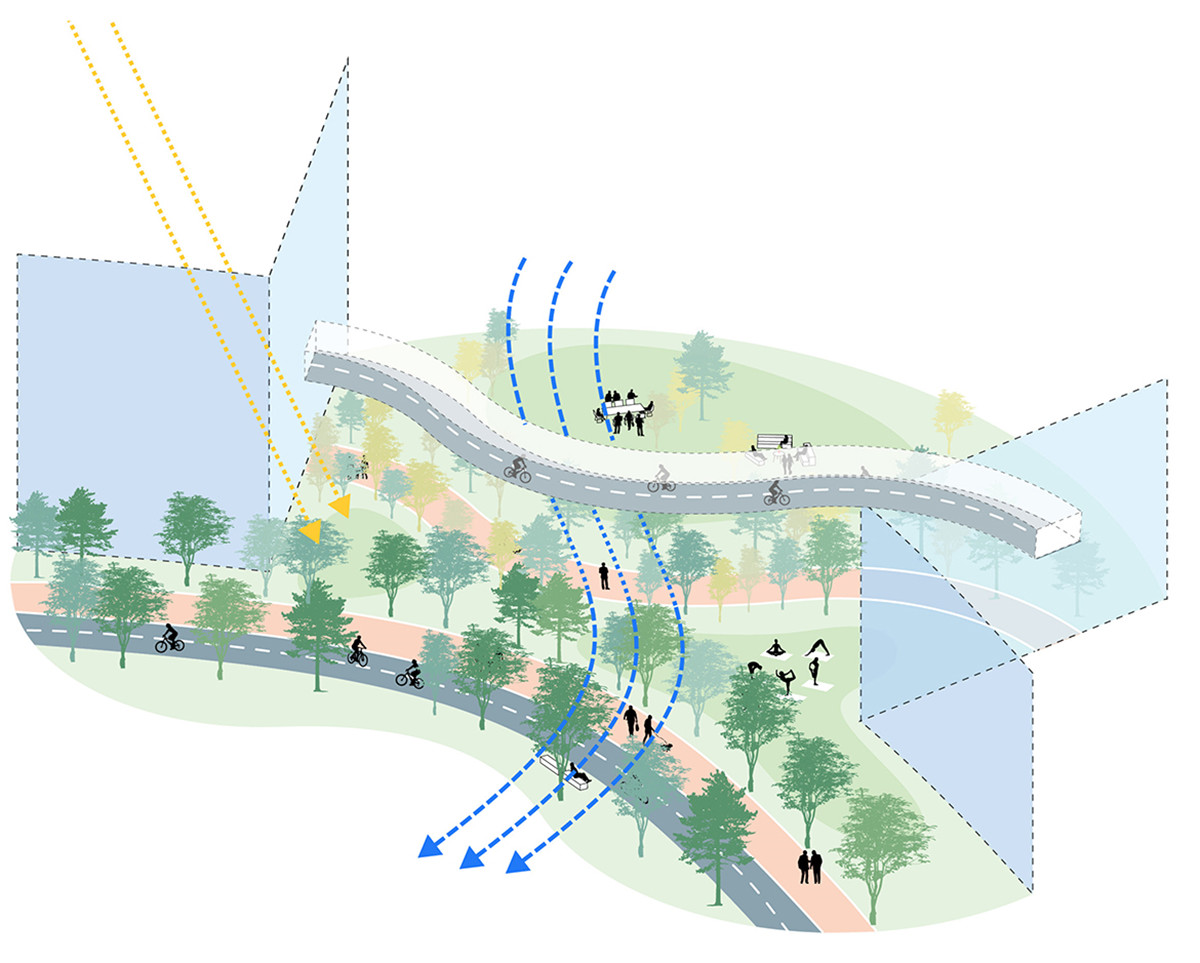 The campus is planned from the start to cultivate mental and physical health for employees and residents. Healthy transport options such as shared bikes and walking are promoted over auto use by providing a large shaded podium and pathways lush with nature. A multitude of sports courts and connections to the bay encourage an active balance of recreation and work to retain an engaged happy community of professionals.
园区从一开始就计划培养员工和居民身心健康。健康的交通选择,如共享自行车和步行,使用汽车道路,通过提供一个巨大的遮阳平台和茂盛自然的小路。众多的运动场和与海湾的连接鼓励了娱乐和工作的积极平衡,以保持一个敬业、快乐的专业人士社区。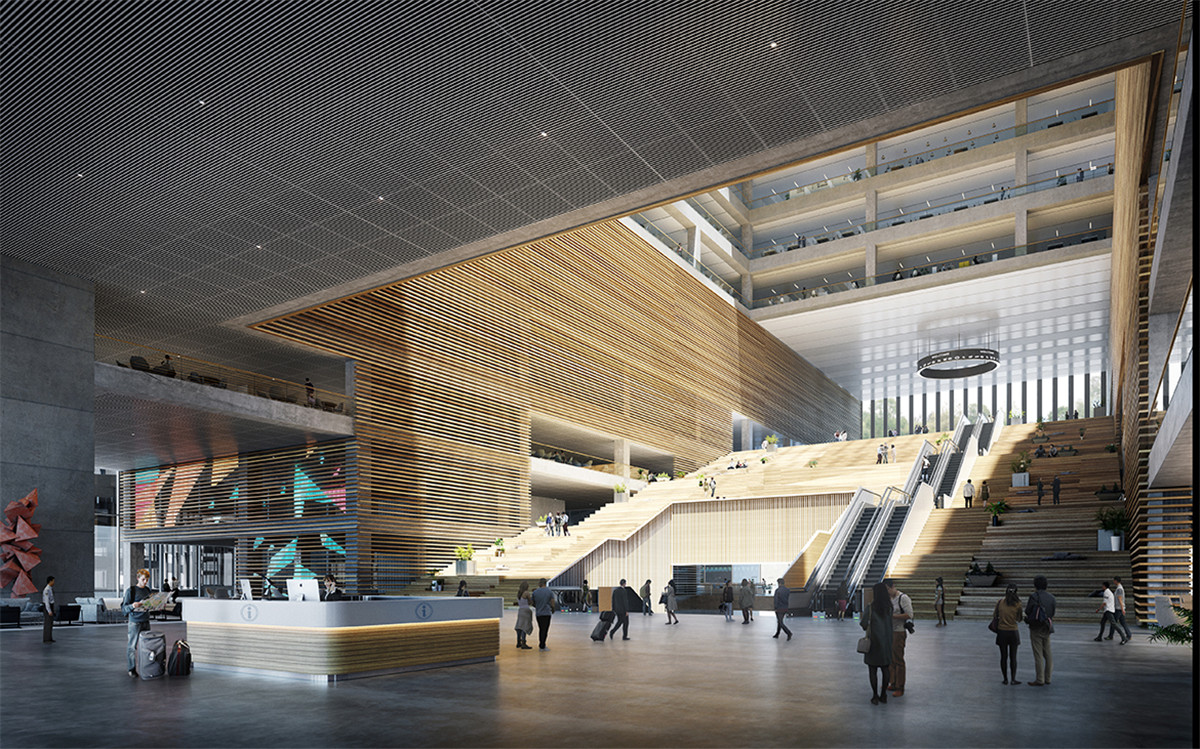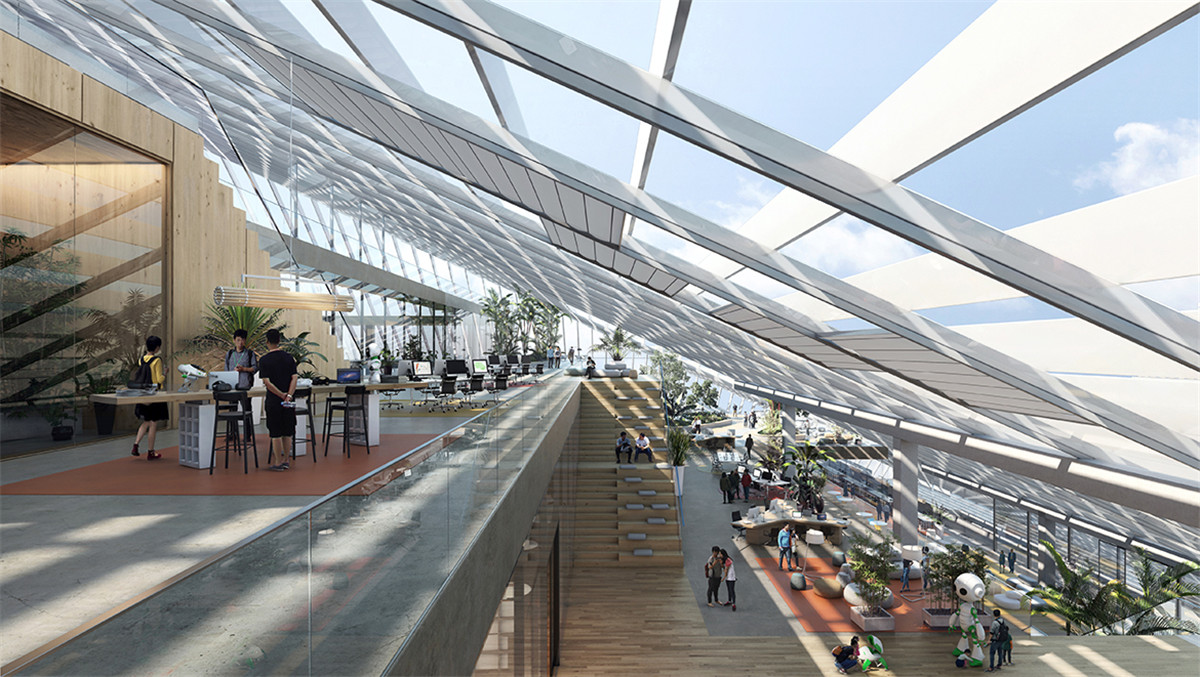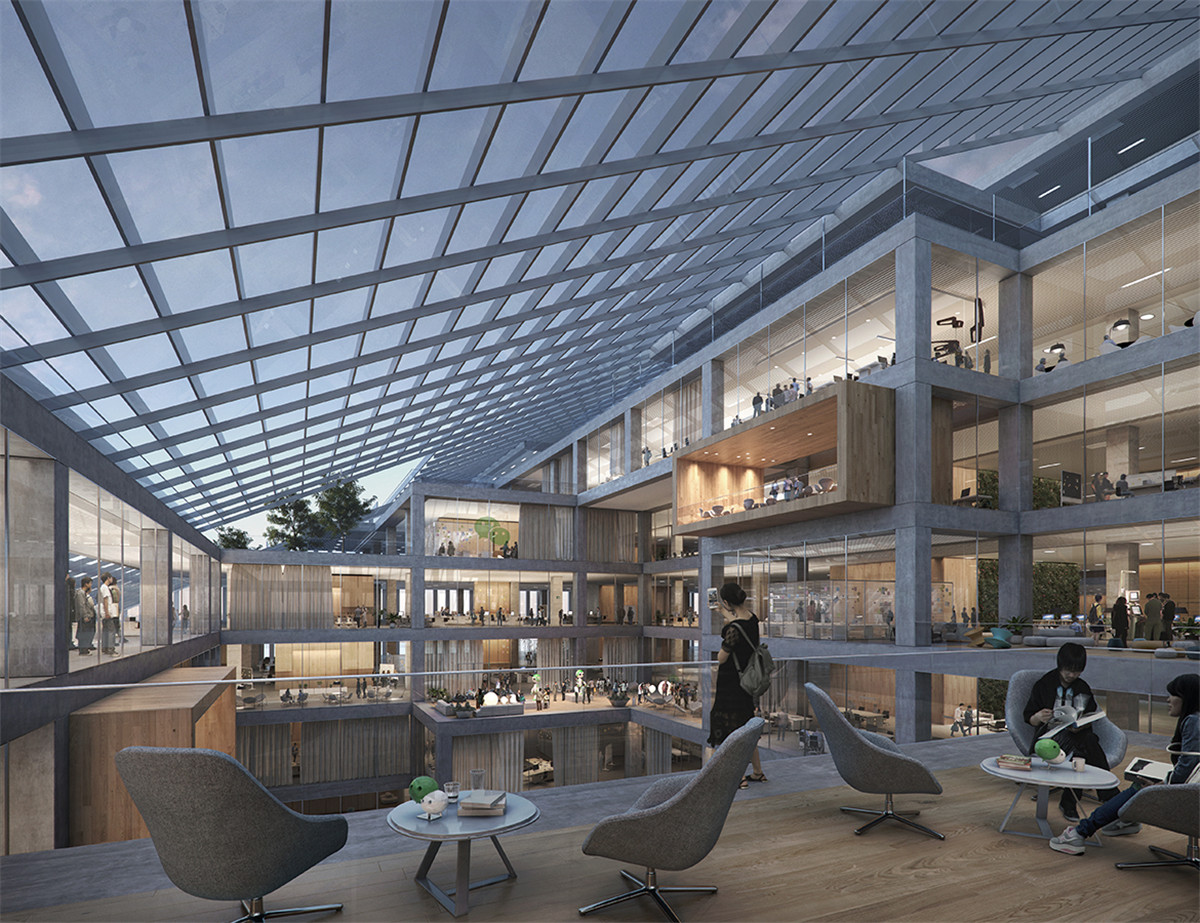 SEE MORE (来自) SHL Architects   SLA