Qianhai, a new and rapidly expanding central business district in Shenzhen, will soon be the epicenter of innovation in the Greater Bay area. This district is strategically positioned along the coast of the Pearl River Delta, between the Qianhai Bay to the North and the Nanshan Mountains to the South. The CMG Qianhai Global Trade Center will be a mixed used development with 360,000 square-meter capacity area, located within Qianhai's neighborhood Ma Wan. The building complex will be a Transit Oriented Development integrating two main roads and three metro lines that intersect, and a bus terminal.
前海是深圳一个新的、快速发展的中央商务区,很快将成为大湾区的创新中心。 项目区位在珠江三角洲沿岸,北临前海湾,南接南山,地理位置优越。 招商局前海环贸中心位于前海妈湾片区,是一个总建筑面积达360,000平方米的综合开发项目。 该建筑群将是一个以公交为导向的开发项目,包括两条主干道和三条相交的地铁线路,以及一个巴士总站。
Qianhai's urban ambition is to become a diverse and lively region with a wide selection of public functions, and a generous provision of green and public spaces. Current architectural developments in the region are driven by similar site parameters. Ubiquitously present are tower/podium developments separated from each other by an over-dimensioned infrastructural network, autonomous and detached from the urban context. How do we contribute to the urban ambition of Qianhai?
前海的城市目标是成为一个多元化和充满活力的地区,拥有广泛的公共功能选择,以及大量的绿色和公共空间。 该地区当前的建筑发展是由类似的场地模数驱动的。 无处不在的是塔楼/裙楼开发项目,它们被一个超大的基础设施网络分开,独立于城市环境之外。 我们如何为前海的城市雄心做出贡献?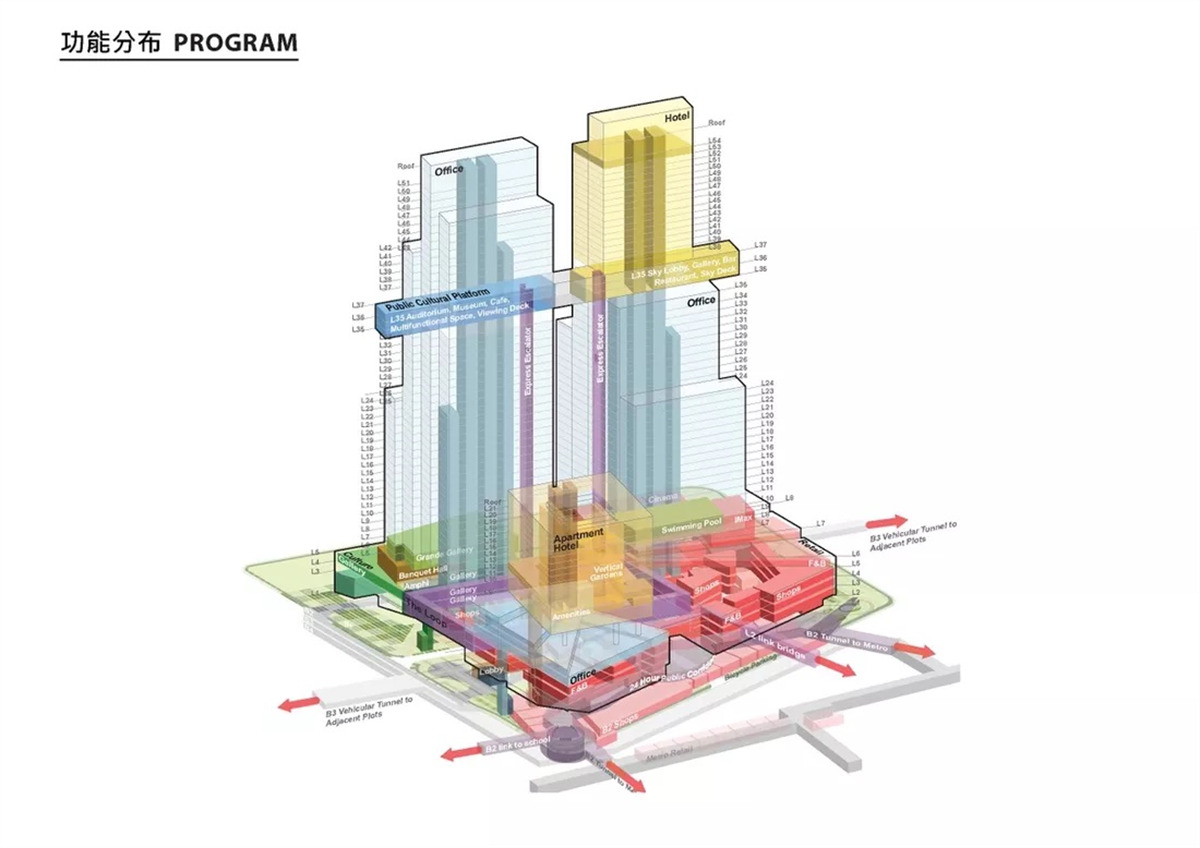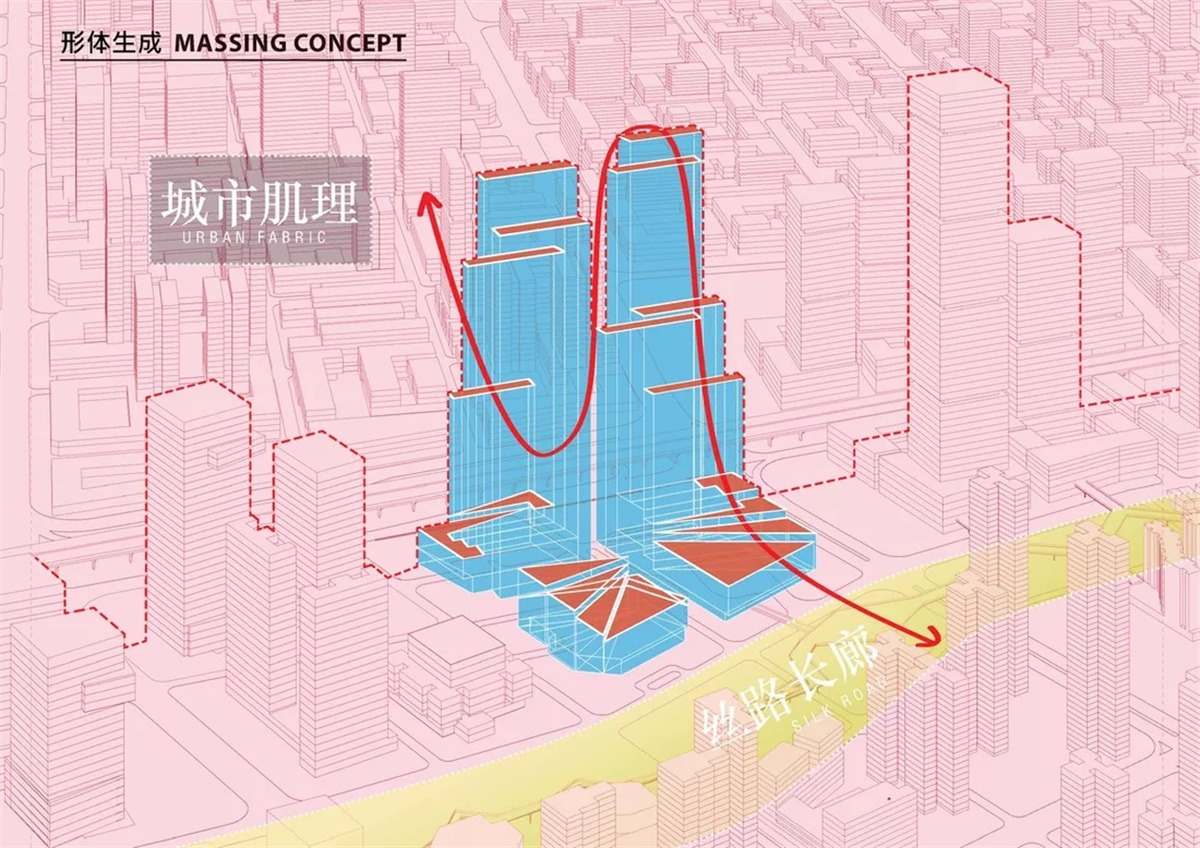 CMG Qianhai Global Trade center has been conceived as a compressed urban development—a Micro-City—in which traditional boundaries between building and the urban context are challenged. It is at once a tower, a cluster, a neighborhood and a city.
CMG前海环贸中心被设想为一个压缩的城市开发——一个微型城市——建筑和城市环境之间的传统界限受到挑战。 它既是塔楼,又是集群、社区和城市。
The high-rise development has been designed as a collection of slender volumes, cascading down from the center and forming two main towers. The tallest parts of the towers, and a skybridge connecting them, will give the building a strong directionality—pointing towards the Qianhai Bay and the Nanshan Mountains. The lower volumes of the main towers will respond to the urban scale of its immediate surroundings including the Silk Road Corridor, a major public park in the area. A cube-shaped building will hover above the podium to form a visual connection between the building complex and the Silk Road Corridor. Roof terraces resulting from the cascading form will function as extensions of the public park.
这座高层建筑被设计成一系列细长的体量,从中心向下层叠,形成两座主塔。 塔楼的最高部分和连接它们的天桥将赋予建筑强烈的方向性——指向前海湾和南山。 较小体量的主塔楼将与其周边环境的城市规模相呼应,包括该地区的主要公园丝绸之路走廊。 一座立方体建筑将悬停在裙楼上方,形成建筑群与丝绸之路走廊的视觉联系。 由层叠形式产生的屋顶露台将作为公园的延伸。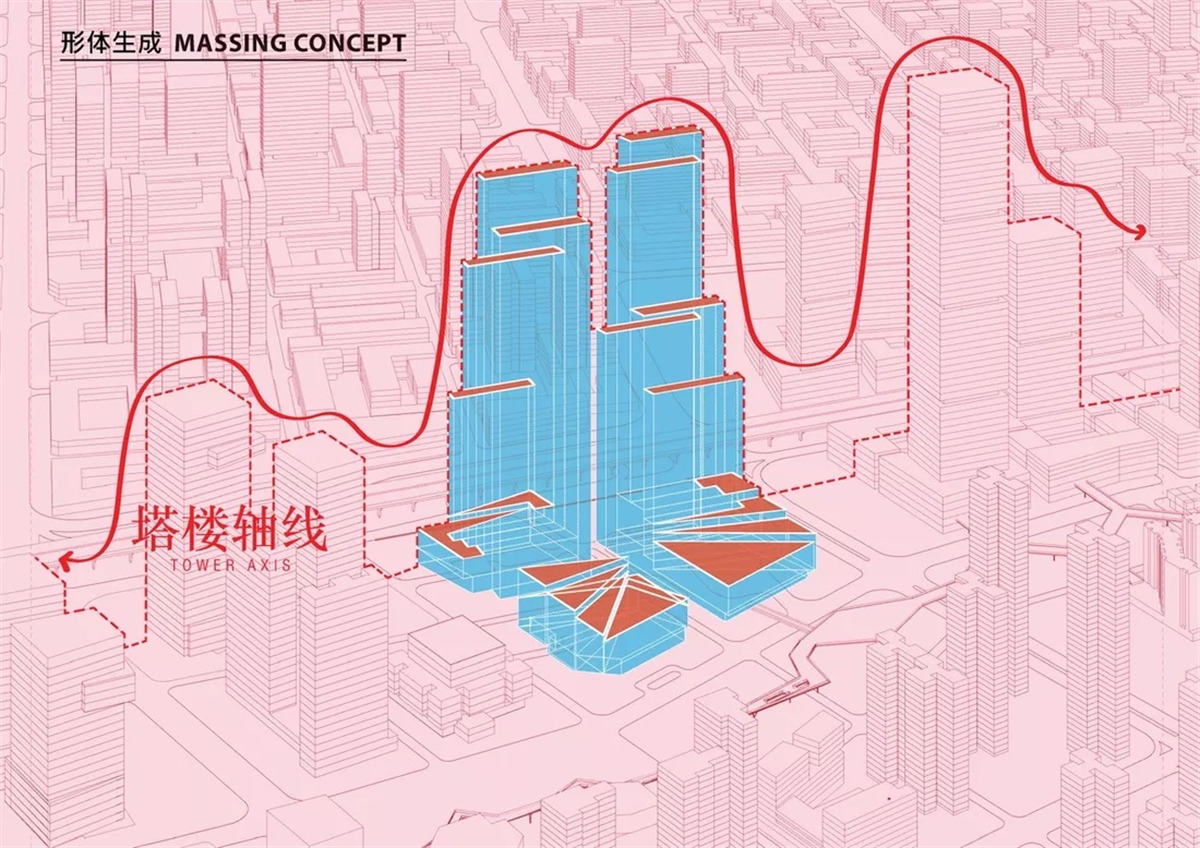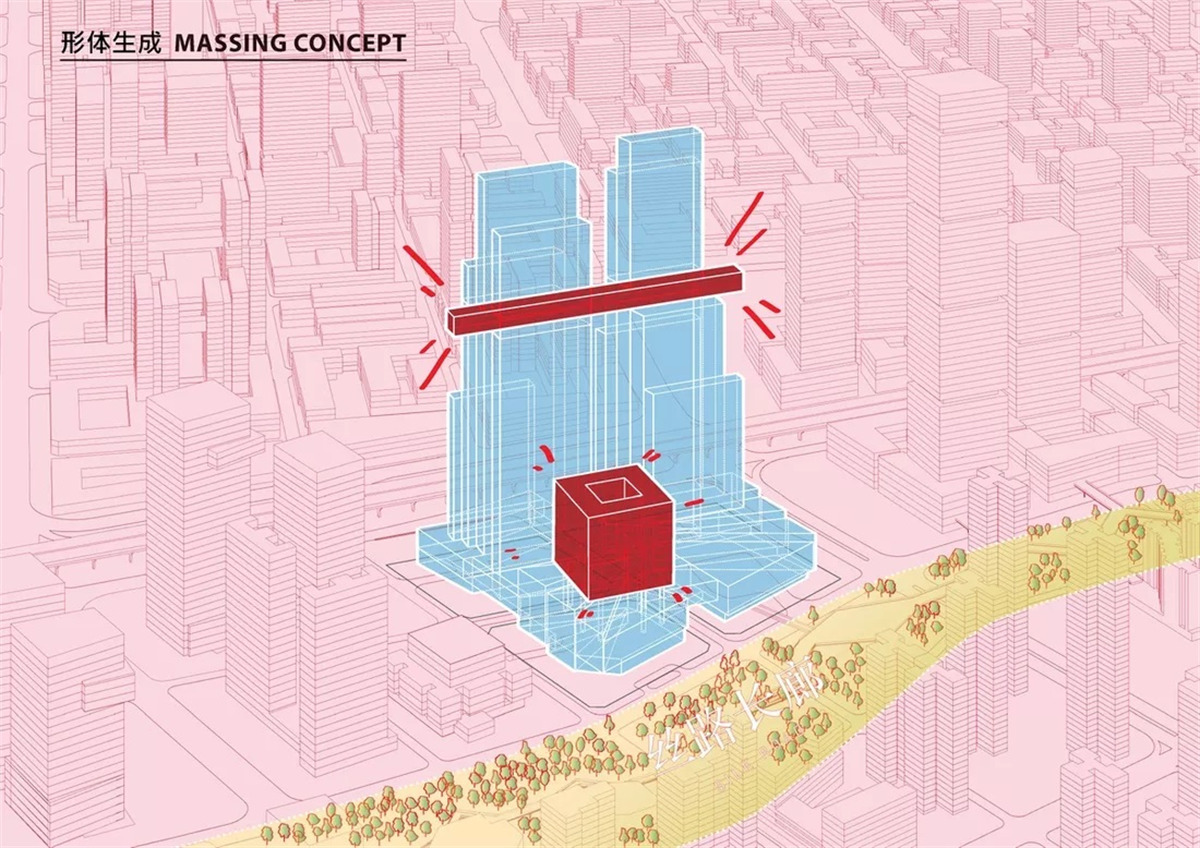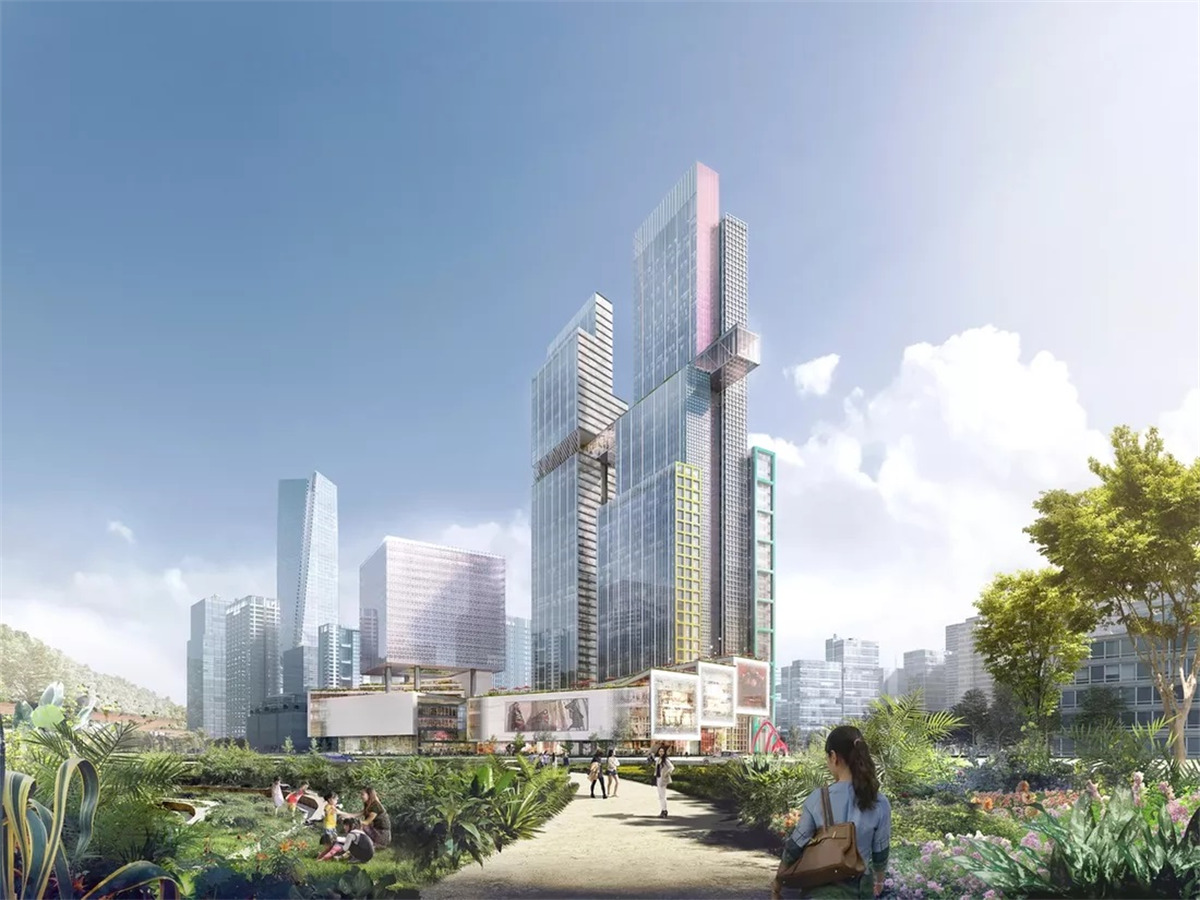 A three-dimensional trajectory will tie all public and private programs together, allowing accessibility on all levels. The skybridge will be the highest accessible element in this trajectory and the most prominent feature of the CMG Qianhai Global Trade Center. It will include a public cultural platform and a viewing deck overseeing the city. Its flexibility will enable it to accommodate gardens, art installations, or events.
三维轨迹将所有公共和私人项目联系在一起,允许所有级别的可访问性。 天桥将是这条轨道上可达性最高的元素,也是CMG前海环贸中心最显着的特色。 它将包括一个公共文化平台和一个俯瞰城市的观景台。 它的灵活性使其能够容纳花园、艺术装置或活动。
COLLABORATORS:
LOCAL ARCHITECT: Huayi Design
STRUCTURAL ENGINEERING: RBS Structural Engineering Design Associates
MECHANICAL ENGINEERING: Meinhardt (Shenzhen) Ltd.
FAÇADE CONSULTANCY: CBS Facade
TRAFFIC CONSULTANCY: MVA
SEE MORE (来自) OMA